Our Physicians
Robert Burger, M.D.
"Thank you all so much for making my knee like new again. I came into the office with a very painful knee and now am pain free. I now know on a personal level why Beacon comes so highly recommended!"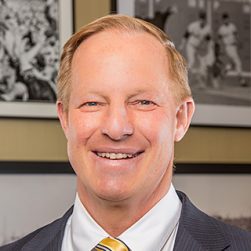 Robert Burger, M.D., a Cincinnati native and LaSalle High School alumnus, graduated Magna cum Laude in 1981 from the University of Notre Dame with a B.S. in Chemical Engineering. Originally a walk-on, Dr. Burger joined the Notre Dame Football team and was a member of the 1977 National Championship Team. Earning a football scholarship, he started at guard on the 1980 Sugar Bowl team and was named First Team Academic All-American, National Scholar-Athlete, and winner of the Dolly Cohen Award as the top scholar athlete in the country. In 2006, Dr. Burger was inducted into the Academic All-American Hall of Fame.
Dr. Burger earned his M.D. in 1985 and completed his Orthopaedic Surgery Residency in 1990 from the University of Cincinnati College of Medicine. He completed his Orthopaedic Sports Medicine Fellowship in 1991 at the nationally renowned Hughston Orthopaedic Clinic. Dr. Burger is board certified by the American Board of Orthopaedic Surgery and has an additional certification in Orthopaedic Sports Medicine.
Dr. Burger serves as the Head Team Physician and Medical Director for Xavier University Athletics, Orthopaedic Consultant for the Cincinnati Reds, and head Orthopaedic Team Physician for the College of Mount St. Joseph athletics. Additionally, he is Head Team Physician for the Cincinnati Steam and his alma mater, LaSalle High School.
Dr. Robert Burger serves on the advisory boards of LaSalle High School, Greater Cincinnati Right to Life, the Cincinnati Chapter of the National Football Foundation, and the Athenaeum of Ohio. Dr. Burger has been recognized as Outstanding Team Physician by the Ohio Athletic Trainers' Association in 2009 and honored by the Ohio Joint Advisory Board of Sports Medicine as Outstanding Team Physician in 2010. His practice respectfully welcomes both new and established patients with orthopaedic and sports medicine problems.
Education
LaSalle High School. 1977
Univ. of Notre Dame, B.S. – Chemical Engineering, Magna cum Laude. 1981 Univ. of Cincinnati College of Medicine – Medical Doctor. 1985
General Surgery Internship, University of Cincinnati. 1985-1986 Orthopaedic Residency, University of Cincinnati. 1986-1990
Certifications
American Board of Orthopaedic Surgery - 1993
American Board of Orthopaedic Surgery - 2002 American Board of Orthopaedic Surgery - Subspecialty Certification: Orthopaedic Sports Medicine – 2007
Ohio State Medical Board – since 1991
Fellowships
Sports Medicine Fellowship, Hughston Orthopaedic Clinic. 1990-1991