Our Physicians
John Brannan, M.D.
"I got my first one (spinal injection) and the results were unbelievable. I had very little pain and no numbness in my left leg. I could stand up straight and walk without having to stop every 30 feet and squat down because of the pain I had. I am so impressed and grateful that I changed doctors, and was lucky enough to have Dr. Brannan for my doctor. I have and will always tell everyone of my experience and recommend Dr. Brannan and Beacon Orthopaedics for any orthopedic/spine needs."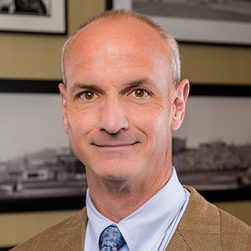 Dr. John Brannan was born and raised in Cincinnati, Ohio, and is a proud graduate of St. Xavier High School. After earning his undergraduate degree from the University of Cincinnati, Dr. Brannan earned his medical degree from the University of Toledo. He went on to complete his internship at The Christ Hospital in Cincinnati. Dr. Brannan settled in the Queen City for good after his residency at University of Missouri-Columbia.
Dr. Brannan currently serves as an orthopedic consult for Lakota West, providing medical coverage at athletic events, as well as providing preventative care. With his specialties, he is able to recognize the severity of back, neck, and head injuries (including concussions) in young athletes, as well as provide assistance to trainers in preventing common sports related injuries.
His special interests include clinical spine medicine, sports medicine, rehabilitation, and electrodiagnosis. This includes various non-surgical treatment options for patients suffering from acute and chronic pain. In addition, Dr. Brannan also focuses on physiatry.
Physiatry is a medical specialty which involves diagnosing and treating orthopaedic and neurological disorders. Physiatrists are involved with every phase of a patient's orthopaedic illness-from onset to recovery.
Dr. John Brannan currently provides care at Beacon's West, Batesville, and Summit Woods (Sharonville) locations.
Education
University of Toledo College of Medicine, 1987-1995
University of Cincinnati, 1983-1987
Internship
The Christ Hospital, 1991-1992

Residency
Physical Medicine and Rehabilitation, Rusk Rehabilitation Center, University of Missouri, 1992-1995
Certifications
Diplomat, American Board of Physical Medicine & Rehabilitation
Diplomat, American Board of Electrodiagnostic Medicine
State of Ohio Medical License
State of Indiana Medical License
Disability Evaluators Panel, Ohio Bureau of Workers' Compensation
Provider, Ohio Bureau of Workers Compensations
Advanced Cardiac Life Support
Advanced Trauma Life Support
Diplomat, National Board of Medical Examiners