The Beacon physical therapy and hand therapy department provides compassionate, state-of-the-art orthopedic care that services the needs of patients with a wide range of orthopedic and sports medicine injuries. The physical therapy and hand therapy teams work side by side with the Beacon physicians to provide their patients with a complete continuum of care. Patients who are prescribed physical therapy or hand therapy enjoy the convenience of early morning, daytime, and evening appointment availability.
For more information, please call at any of our Beacon Physical Therapy or Hand Therapy locations below: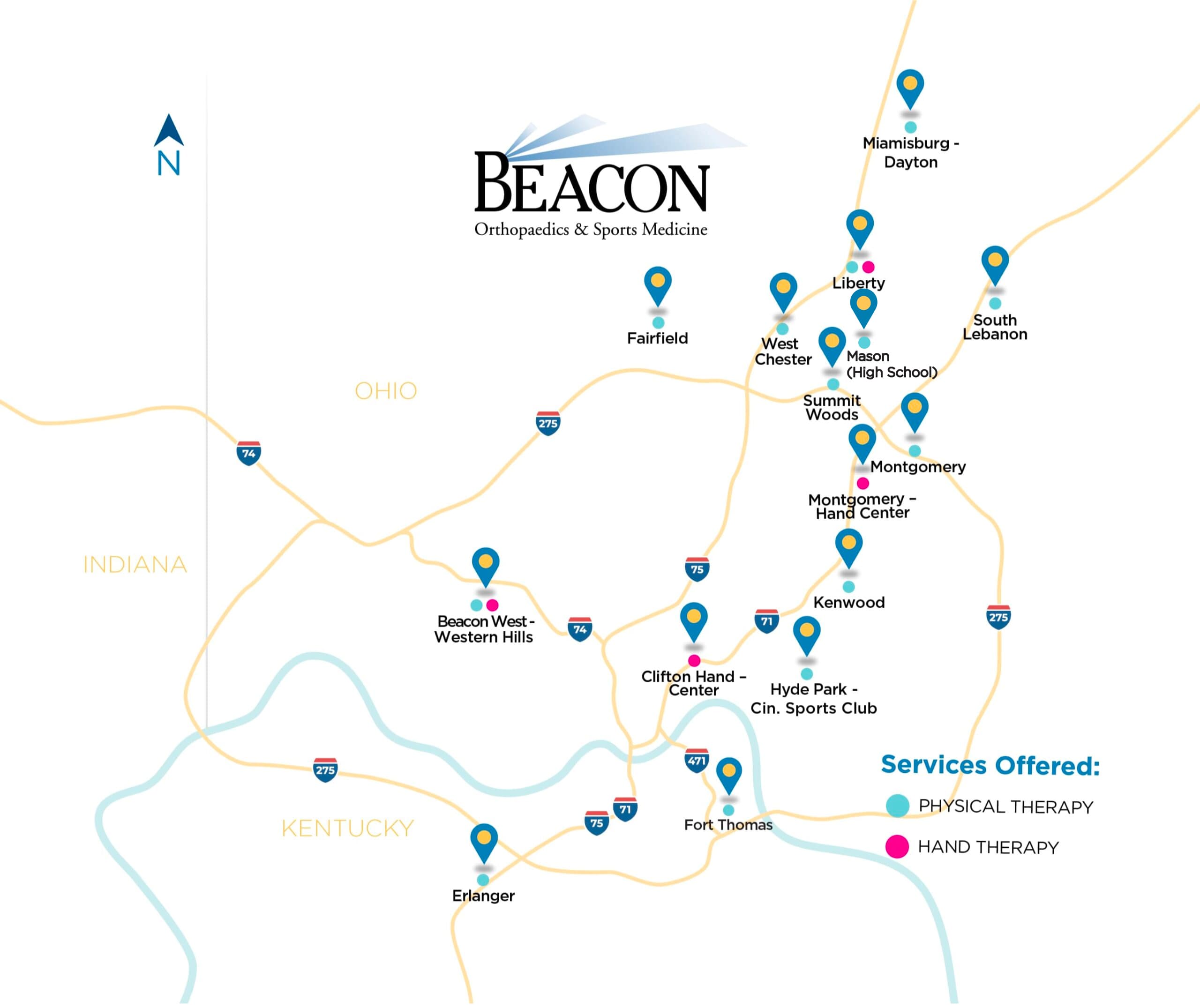 PHYSICAL THERAPY
DAYTON: 2835 Miami Village Drive, Miamisburg, OH 45342 – (937) 449-0796
ERLANGER: 600 Rodeo Drive, Erlanger, KY 41018 – (859) 905-1017
FAIRFIELD: 5900 Boymel Drive, Fairfield, OH 45014 – (513) 870-5342
FORT THOMAS: 775 Alexandria Pike, Fort Thomas, KY 41075 – (859) 572-1689
HYDE PARK – (CINCINNATI SPORTS CLUB): 3950 Red Bank Road, Cincinnati, OH 45227 – (513)-272-4011
KENWOOD: 8311 Montgomery Road, Cincinnati, OH 45236 – (513)-985-8650
LIBERTY: 8020 Liberty Way, West Chester, OH, 45069 – (513)-527-6414
MASON (HIGH SCHOOL): 4859 Nixon Park Dr., Mason, Ohio 45040 – 513-354-3700
MONTGOMERY: 8099 Cornell Road, Cincinnati, OH 45249 – (513) 985-2256
SOUTH LEBANON: 440 Corwin Nixon Boulevard, South Lebanon, OH 45065 – (513) 770-0333
SUMMIT WOODS: 500 E Business Way, Sharonville, OH 45241 – (513) 389-3666
WEST CHESTER: 9100 Centre Pointe Drive, Suite 160, West Chester Township, OH 45069 – (513) 682-0158
WESTERN HILLS: 6480 Harrison Avenue, Cincinnati, OH 45247 – (513) 354-7777
HAND THERAPY
LIBERTY: 8020 Liberty Way, West Chester, OH, 45069 – (513) 527-6414
MONTGOMERY HAND CENTER: 10496 Montgomery Road, Suite 101, Cincinnati, OH 45242 – (513) 792-7936
WESTERN HILLS: 6480 Harrison Avenue, Suite 300, Cincinnati, OH 45247 – (513) 354-3700
Specialized Programs
What is the Bridge Program?
Beacon's Bridge Program is designed to ease the transition from injury recovery to return to full function, decrease your risk of re-injury, and improve strength, range of motion and balance. This program is for patients who have already completed physical therapy with Beacon or another certified physical therapy provider.
The Bridge Program is geared towards restoring the function of patients of all ages who are returning to an active lifestyle. The Bridge Program is provided in partnership with PowerAthlete Enterprises (Miamisburg/Dayton Area), and Beacon Orthopaedics Summit Woods Physical Therapy department. The Bridge Program evaluates a patient's functional movement patterns as well as their level of strength and endurance and uses this information to tailor an exercise plan that will increase their speed, agility, and endurance post-injury.
Patients in the Miamisburg (Dayton) area can utilize PowerAthlete Enterprises to complete their Bridge Program. Patients in the Cincinnati area can complete their Bridge Program at Beacon Summit Wood's sports training area, which includes weight machines, court space, a baseball throwing lane and more. The combination of knowledgeable staff and state of the art equipment allow patients who have successfully completed their prescribed physical therapy to continue improving their strength and endurance in a safe, controlled environment.
Who will benefit from the Bridge?
This unique program is designed for those individuals who have suffered an injury and who have completed formal rehabilitation for that injury. After clearance from a qualified orthopaedic professional, this unique, functional training program can bridge the gap from the rehabilitation clinic to an active lifestyle.
Is the program covered by my insurance?
Bridge is not usually covered by insurance providers, even though it continues the recovery process and decreases the propensity for a re-injury. Bridge does accept HSA/FSA plans.
How do I enroll in the Cincinnati Area?
Click the "Schedule Online" button below or contact Josh True, ATC via email at [email protected] or call (513) 389-3666. You can also ask your physician at your next visit.
Learn More Schedule Bridge Sessions Online Bridge Program Hand Out
Beacon's Bridge Program Provides Transition from Physical Therapy
Blood Flow Restriction (BFR)
What: Blood flow restriction training is an exercise modality that involves using a cuff to occlude blood flow of a limb while restricting arterial blood flow into a limb. Evidence supports the use of blood flow restriction at rest, combined with aerobic training, or combined with low-load resistance training to reduce disuse muscle atrophy and increase the strengthening of muscles.
Who: Patients recovering from surgery or injury. Athletes looking for improved performance and competitive edge.
Why/How:  It involves the application of a pneumatic cuff (tourniquet) to the muscle that is being trained. It can be applied to either the arms or legs. The cuff is inflated to a specific pressure with the aim of obtaining partial arterial and complete venous occlusion. The patient is then asked to perform resistance exercises at a low intensity. After injury or surgery a patient is usually unable to lift loads or at an effort level known to induce skeletal muscle adaptation. BFR allows the therapist to begin the strength training phases of rehabilitation much earlier. Ultimately leading to improved patient outcomes and more rapid recovery.
Where: Beacon's Summit Woods, Miamisburg, South Lebanon, and Beacon West Physical Therapy Locations
Dry Needling (DN)
What: DN is a treatment designed to ease muscular pain through the insertion of small needles into the body's tissues and muscles.
Who: Patients recovering from injury or surgery.
Why/How: During DN, therapist inserts small filiform needles into your skin. These needles are thin and short and do not inject fluid into the body, therefore that is why they are called "dry". Therapists target "trigger points" in your muscle or tissues, areas that are knotted or hard. The needles help release the knot and decrease muscle pain or spasms. The needles stay in your skin for a short period of time. DN may provide relief for muscular pain and stiffness as well as easing trigger point and improving flexibility or range of motion.
Where: All of Beacon's Physical Therapy Locations
Baseball Throwing Program
The Baseball Throwing Program at Beacon Orthopaedics is a baseball-focused, one-on-one program designed for athletes overcoming an injury. We use the latest technology and baseball specific routines to develop the necessary tools to return to play and remain healthy. Qualifying participants have completed Physical Therapy and are cleared by their physician to resume throwing or begin a throwing program. The Baseball Program helps athletes develop pre and post throwing routines to improve arm health and total body mobility to aid in the throwing motion.
The MotusThrow is utilized during the throwing portions of the program to report objective, real-time measurements on Elbow Stress (Nm), Arm Slot (degrees), Arm Speed (RPMs), and Shoulder Rotation (degrees), along with other data.
Contact: Mark Keiser, MS, ATC, [email protected]
(513) 530-3020
Running Performance Program
What is the Running Performance Program?
This program caters to the avid runner trying to return to training or runners who are already participating in races. The program combines highly skilled physical therapists with cutting edge technology. Consisting of a personal evaluation, video analysis, and personal exercise/training recommendations to get runners back on their feet 100%.
Runners of all ages & competitive levels will benefit from this program
Runners with injuries and those wanting to enhance their performance will both benefit from our video analysis technology to track mechanics and range of motion
Want to enroll or have questions?
Contact the following trainers according to the location you wish to visit.
Summit Location:
Gabby Bobadilla, PT, DPT – [email protected]; (513) 389-3666
or Leah Crone, PT, DPT, OCS – [email protected]; (513) 389-3666
Beacon's Work Conditioning Program is a high level therapeutic intervention designed to help patients regain function to meet the demands of their job and return to work. Work conditioning is ideal for patients that have already progressed through traditional physical therapy but still lack full function in relation to specific duties required of the job. Work conditioning utilizes real or simulated work tasks to help prepare patients for a safe transition back into the work force.
Learn more by clicking here.
Physical Therapy FAQs
What does a physical therapist do?
Physical therapists are musculoskeletal experts who specialize in helping people improve their physical function and quality of life. We work with our patients to help them achieve their goals, whether that's recovering from an injury or surgery, preventing reaching a new athletic level, or minimizing pain.
How long will I need PT?
This is dependent on individual need and circumstance. We will work together to create a plan to get you back to your goals as quickly as possible.
What can I expect at my first PT appointment?
At your first appointment, your therapist will discuss your health history, reasons for seeking care, and goals. The therapist will then complete a thorough initial evaluation, assessing things like your range of motion, strength and pain levels. Together, you'll create a plan of care to assist you in meeting your goals in accordance with the physician. You will be given access to our home exercise program where your individualized exercises will be listed so that you can work on continuing your recovery at home.
Will I be working with one physical therapist for the duration of my care?
At Beacon, we work in teams of therapists. You may see 1-3 team members throughout your care. Each therapist will be up to date on your status before each visit. If you would like to request a specific individual, accommodations can be made.
How long does a physical therapy appointment last?
Initial appointments are typically 45-60; follow up appointments are also 45 to 60 minutes.
What locations have Beacon physical therapy?
Dayton (Miamisburg)
Erlanger
Fairfield
Hyde Park (Cincinnati Sports Club)
Kenwood
Liberty
Montgomery
South Lebanon
Summit Woods (Sharonville)
Western Hills (Beacon West)
What are your hours?
Monday through Thursday: 7am-7pm
Friday: 7am-6pm (Varies by location)
Which insurances do you accept?
We are in-network with most major insurance companies, including Cigna, Anthem, Blue Cross Blue Shield, Humana, UHC, and Medicare. If you have specific questions about your particular plan, please give us a call. We'd be happy to verify your benefits.
What should I wear to my sessions?
Wear loose, comfortable clothing that does not restrict your movement.  Please wear something that allows the physical therapist to expose the body part you are seeking care for.
What should I bring to my first PT appointment?
Be sure to bring your insurance card and payment method for any copayment you may owe at the time of service.
How early should I arrive for my first appointment?
We ask that all new patients arrive 15 minutes before their appointment to complete any remaining paperwork.
What happens when I have completed physical therapy?
On your last visit, your physical therapist will make sure your exercises are updated to continue with on your own. We also recommend you continue your rehab journey on to our bridge program. Our bridge program is designed to help ease the transition between injury recovery and return to full function. You can contact us at (513-389-3666) for more information about this individualized program.
Does physical therapy hurt?
Physical therapy shouldn't be painful, but you may experience some temporary soreness and discomfort as you work and stretch new muscles. If you ever feel pain during a session, let your therapist know. We will make sure to adjust the program to your tolerance.
Lead Staff
Melissa Kontsis – Director of Beacon Physical Therapy, Beacon West Clinic Manager, PT, ATC
Melissa is the Director of PT for Beacon Orthopaedics and Sports Medicine. While overseeing the operations of all three Beacon PT departments, she continues to treat patients on a daily basis. She is a physical therapist and athletic trainer. As a Board-Certified Sports Medicine Specialist, she has treated high school, college, Olympic and professional athletes over the past 20 years. Personally, she is an avid runner and a former college volleyball player at Temple University and has also completed in local bodybuilding competitions. Her husband is the Head Football Coach at Walnut Hills High School, and they have been residents of West side of Cincinnati with their three children for over a decade.
Adam Testerman – Director of Physical Therapy, PT, DPT
Adam is a physical therapist and Director of Physical Therapy with experience in sports medicine and rehabilitation since 2012. Adam is a graduate of Kings High School and earned his bachelor's in science at Miami University in exercise science. He achieved his doctorate in physical therapy from the University of St. Augustine, San Diego. Adam has been a part of the Beacon PT team since 2016 and has worked with athletes of all ages from middle school to the professional level including the NBA and X-Games competitors. He, his wife Lauren, and three sons Camden, Colton, and Cohen reside in Mason and enjoy spending time with friends/family.