Your Joints Shouldn't Hold You Back.
Learn how our state of the art approaches to hip and knee replacement can help you get back to your passions.
Outpatient Knee Replacement
The goals of uniconylar and total knee replacements are to restore function and alignment, while relieving pain.  A knee replacement may be required due to severe osteoarthritis or other joint conditions.
Scroll Down For More
Anterior Approach Hip Replacement
If more conservative treatment options have failed, a total hip replacement may be recommended.  This procedure relieves pain and restores movement restricted by  damage from any number of conditions or diseases.
Scroll Down For More
Meet the friendly team that will guide you from your pre-operative consultation all the way through recovery.  My team is hand-picked and designed specifically to give you the best experience and most complete care we can.
Not quite ready to see a doctor? Are you curious about hip or knee replacements?  Or, if you simply want a better understanding of who I am and my approach to joint replacement, my blog should be helpful.
About Dr. Haleem Chaudhary
Dr. Hal Chaudhary is board certified and fellowship trained in adult joint reconstruction from the Anderson Orthopaedic Research Institute in Alexandria, Virginia.
Dr. Chaudhary returned to Cincinnati where he completed medical school at the University of Cincinnati in 2000. When he joined Beacon Orthopaedics as a total joint specialist, Dr. Chaudhary brought expertise in unicondylar knee replacement, and total joint revisions of the hip and knee.  He has also worked to pioneer anterior approach hip replacements in the region.
His professional interests include primary hip and knee replacements, revisions of hip and knee replacements, unicondylar knee replacements, minimally invasive techniques, general orthopaedics, and orthopaedic trauma.
Dr. Chaudhary is also working on a new study with Zimmer Biomet and Apple Watches to improve the joint replacement surgery and rehabilitation.
He is married to neuro-oncologist, Dr. Rekha Chaudhary.  They have two sons, Jay and Sammy, and one daughter, Alisha.
The hip joint is one of the body's largest weight-bearing joints. It is a ball and socket joint in which the surface is covered by a smooth articular cartilage which acts as a cushion and enables smooth movements of the joint.
It is our objective for you to regain function and return to your favorite activities without pain as quickly as possible.  This is why we typically recommend beginning physical therapy the next day.  In some cases, physical therapy may be recommended prior to surgery.
A number of diseases and conditions can damage the cartilage.  Total hip replacement surgery is an option to relieve severe arthritis pain that limits your daily activities.  A joint replacement is usually only recommended once more conservative treatment options, such as anti-inflammatory medications or physical therapy, have failed to relieve the symptoms.
The procedure is performed under general anesthesia.  The incision is made over the hip to expose the joint.  Once the socket is cleaned and the damaged or arthritic bone is removed, the new "socket" component is inserted into the socket using screws or occasionally bone cement.  A liner made of plastic, ceramic, or metal is placed inside the component.
The femur (thigh bone) is then prepared by removing the arthritic bone using special instruments, to exactly fit the new metal "ball" component.  The femoral component is then inserted to the bone either by a press fit or using bone cement.
Then the femoral head component, made of metal or ceramic, is placed on the femoral stem. All the new parts are secured in place using special cement. The muscles and tendons around the new joint are repaired and the incision is closed.
Total hip replacement is one of the most successful orthopedic procedures performed for patients with hip arthritis. This procedure can relieve pain, restore function, improve your movements at work and play, and provide you with a better quality of life.
A total knee replacement, also called a "total knee arthroplasty," involves the removal of worn out or damaged surfaces of the knee joint and replacement with ceramic, plastic, or metal components. Dr. Chaudhary uses gender-specific knee components to ensure the best fit and most comfort.
The knee is made up of the femur (thigh bone), the tibia (shin bone), and patella (kneecap). The meniscus, the soft cartilage between the femur and tibia, serves as a cushion and helps absorb impact.
Arthritis (inflammation of the joints), injury, or other diseases of the knee can damage the meniscus, causing extreme pain and restricting function.
Surgery is typically recommended only after non-surgical treatment options have failed to relieve the symptoms.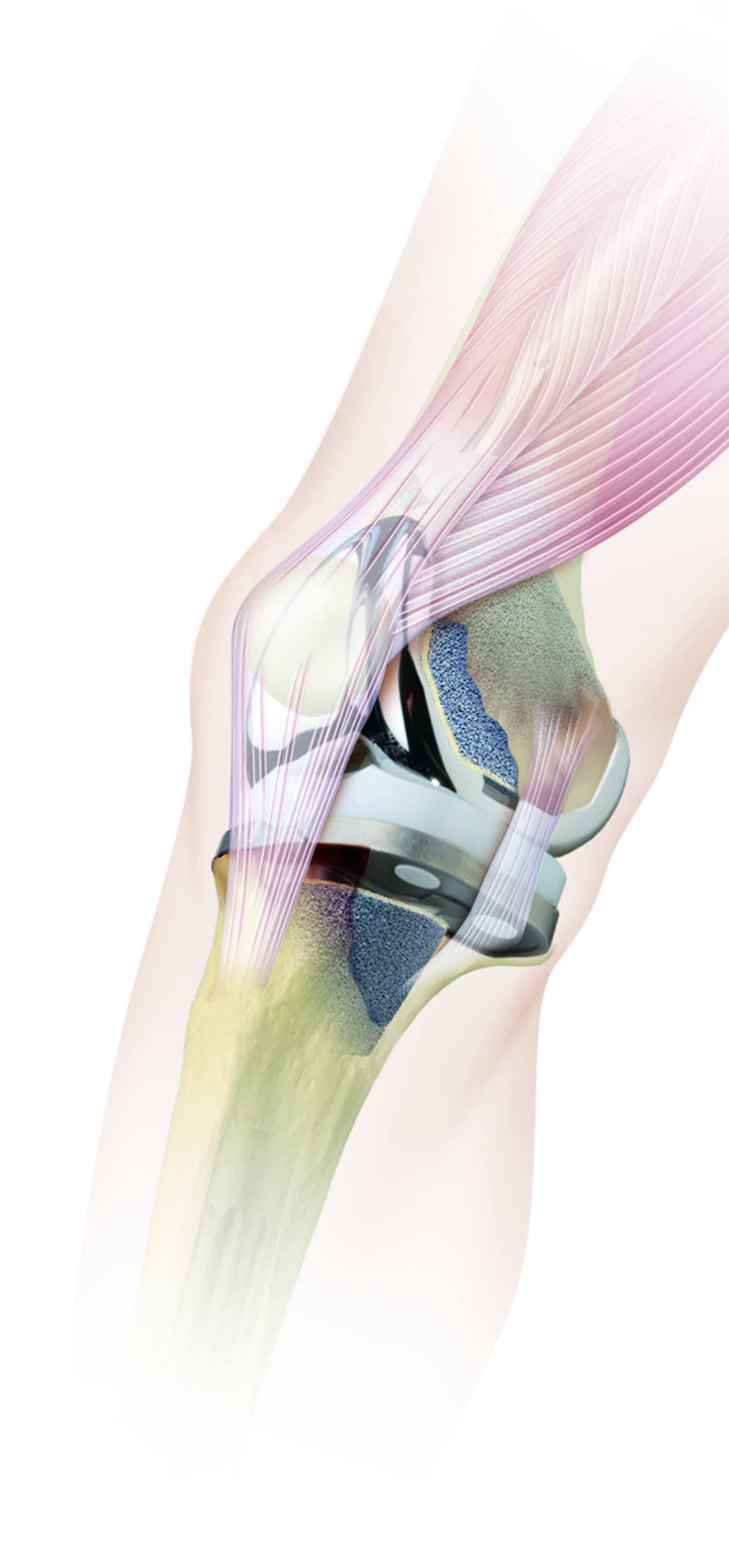 Unicondylar Knee Replacement:
Unicondylar Knee Replacement simply means that only a part of the knee joint is replaced.  This operation requires a smaller incision than that of a total knee replacement.
There have been significant advances over the past 30 years to implant design, instrumentation and surgical technique that have made unicondylar operations very successful for treating unicompartmental arthritis.
Even more recent improvements allow the procedure to be done through an even smaller incision.  This reduces the trauma to the knee, facilitating a faster recovery.
This procedure is usually recommended only once non-surgical treatment options have not provided relief of symptoms.
"I had both my knees replaced by Dr. Chaudhary in September & November Of 2007. It is now 2014 and I have not had one problem with my knees... I have NEVER had anything go wrong to this day. I always tell people what a great job Dr. Chaudhary did." - Lucille
Dr. Chaudhary is passionate about providing top quality joint replacement care as conveniently as possible.  He currently sees patients in Ohio at our Summit Woods, West, and Miamisburg (Dayton) locations, and in Kentucky, our NKY location in Erlanger.  For directions and information about each location, please click below.
To schedule an appointment with Dr. Chaudhary at any of the above locations, please click "Schedule an Appointment."
Frequently Asked Questions:
Do I need a referral to make an appointment?
In most cases, you do not need a referral to see Dr. Chaudhary.  However, please confirm this with your insurance company, as they may require a referral.
What should I bring to my initial consultation?
If you have any of the items below, they will be beneficial for your initial consultation:
Referral letter (if required)
Insurance or Medicare card
List of medications
X-ray and scan results
Written list of questions
We encourage you to come to your initial consultation with a written list of questions to ensure you don't forget to ask them when you are seeing the doctor.
When can I resume exercising?
You will begin or resume physical therapy the day after your surgery.  However, it is recommended that you avoid strenuous physical activity for several weeks.  Dr. Chaudhary will provide you with a specific recovery timeline during your consultation.
How do I contact Beacon Orthopaedics after hours?
There will be a point of contact 24-hours a day for any concerns or recovery questions you may have.  You will be provided with contact details following your treatment.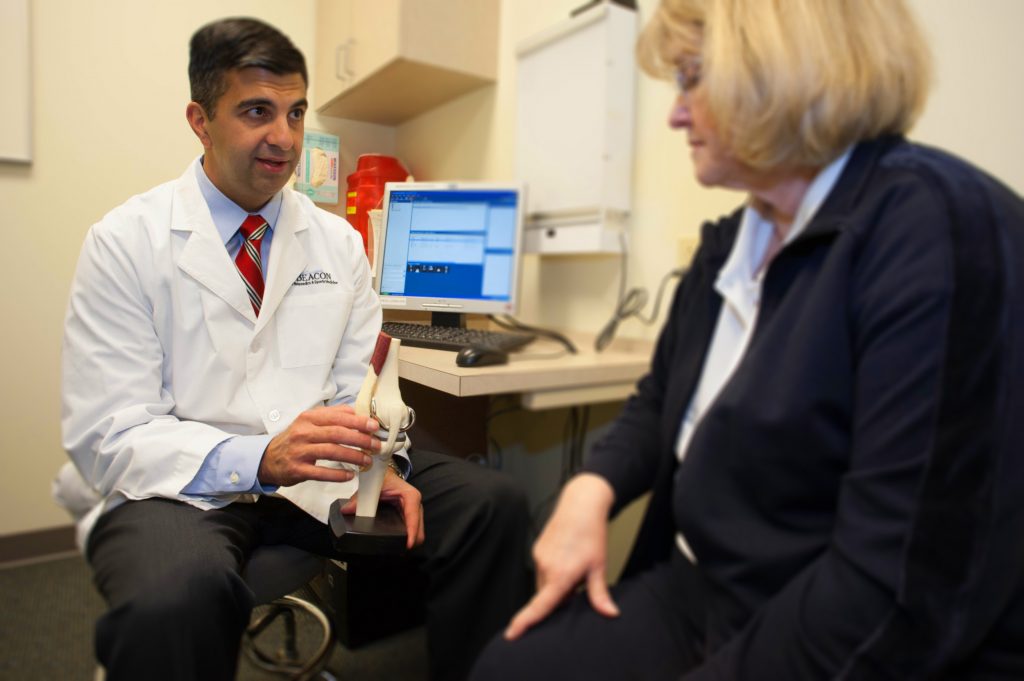 How much time do I need off work after a joint replacement?
The post-operative recovery period varies based on the particular surgery.  Generally it is recommended patients take two weeks off work to recover from any surgery and to resume light duty following resumption of work.  Dr. Chaudhary will give you specific instructions to follow for a successful recovery.
How long before I can resume driving?
You should wait at least one week before driving after a hip or knee surgery.  Dr. Chaudhary will provide you with more specific details during your consultation.
Ready to find out more?  Schedule an appointment today!
Schedule an introductory consultation with Dr. Chaudhary to find out how you can relieve pain, improve function, and get back to the activities you love.
Jeff Piecoro - Hip Replacement
Brenda's Story - Knee Surgery
John's Story - Total Knee Replacements
Alternatives to Hip Replacement
Professional Organization Memberships and Affiliations:
American Academy of Orthopaedic Surgeons
American Board of Orthopaedic Surgery
Ohio Orthopaedic Society
Ohio State Medical Association
Academy of Medicine of Cincinnati