Expert Hand & Wrist Care
My team and I strive to do all that they can to understand each person's needs, help them get well, and treat them like family.
Book an Appointment
About Dr. Foad
I grew up in a medical family in Cincinnati, always knowing that I wanted to follow the example set by my parents; caring for others as if they were family. My parents named me after an uncle who was paralyzed in a diving accident as a child. He inspired me to study orthopaedics so that I could help patients remain functional and independent. My uncle's courage and perseverance to overcome the obstacles life put before him are a continuing source of motivation.
I am an orthopaedic surgeon specializing in the treatment of hand and upper extremity disorders, and reconstructive microsurgery. I received my undergraduate degree from The John Hopkins University, and then returned to Cincinnati to complete medical training and orthopaedic residency at the University Of Cincinnati College Of Medicine.
I pursued additional Fellowship training at The Indiana Hand Center, then came home to Cincinnati in 2005 joining the Department of Orthopaedic Surgery at the University Of Cincinnati. There I had the opportunity to educate orthopaedic and plastic surgery residents and fellows in upper extremity and hand surgery. I was a member of the Cincinnati Children's Hospital Brachial Plexus and Hand Centers, and also served as the orthopaedic consultant to the Shriner's Burn Institute, prior to joining Beacon Orthopaedics & Sports Medicine in 2009.
Education
University of Cincinnati, College of Medicine, 1995-1999
The John Hopkins University, BA, 1991-1995
Internship
University of Cincinnati, Orthopaedic Surgery, 1999-2004
Fellowships
The Indiana Hand Center, Hand & Microsurgery, 2004-2005
Certifications
American Board of Orthopaedic Surgery
Certificate of Added Qualifications in Surgery of the Hand
The American Board of Surgery
Professional Affiliations
American Society for Surgery of the Hand (ASSH)
American Academy of Orthopaedic Surgeons (AAOS)
Academy of Medicine Cincinnati (AMC)
More About Dr. Foad
I enjoy treating adults and children with upper extremity disorders from the shoulder to the fingertips, from the simplest to the most complex. The experience I gained while at the University of Cincinnati has allowed me to treat the entire upper extremity, regardless of the nature of the problem.
My particular interests involve minimally invasive treatments including endoscopic carpal tunnel release and wrist arthroscopy, and I am one of a few Cincinnati surgeons who treat severe bone and soft tissue injuries utilizing reconstructive microsurgical techniques. I continue to be actively involved in training fellows in hand surgery, and remain part of the teaching faculty at the University of Cincinnati, where I provide emergency on call services to the community. I have the privilege of lecturing nationally and internationally, continuing to advance the field of upper extremity surgery.
A member of the American Society for Surgery of the Hand, the American Academy of Orthopaedic Surgery, and the American Medical Association, I also hold a Certificate of Added Qualification (CAQ) in hand, upper extremity and microsurgery. I am honored to consistently be nominated by local peers as a "Top Doc" in Cincinnati Magazine.
I reside in Indian Hill with my wife, Susan, and 5 children, Harris, Ninah, Mimi, Gus and Mohab Jr. When not working, I am usually spending time with extended family: parents, sister, in-laws, and too many cousins to count all live nearby. Much of my leisure time is spent at baseball or soccer games with my kids. When I find time, I enjoy carpentry, music, and flying model aircraft. Thanks to my parents, I am fluent in Arabic and conversational in French.
In my opinion, the best part of my practice is caring for each individual patient, and helping them learn about their problems so they can make educated decisions about which treatment is best for their unique situation. My relationship with patients is a partnership where treatment decisions are made together, based upon their specific needs and values, and guided by my knowledge of their condition. I count myself fortunate to work with a great team that helps provide the care patients deserve. My team and I strive to do all that they can to understand each person's needs, help them get well, and treat them like family.
Dr. Mohab Foad is welcoming new and existing patients to the Sharonville and Beacon East locations. He has privileges at most area hospitals, as well. He is looking forward to partnering with you and guiding you through a successful recovery.
"Dr. Foad allowed me to live my life again. He was caring and compassionate from the second I walked into the clinic. He instructed me on the different treatment types and to this day, I live pain free!"
Leave a Review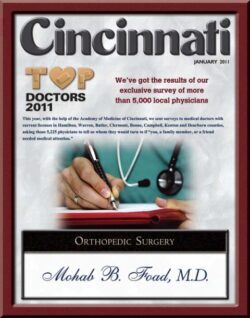 Cincinnati Top Doctors 2011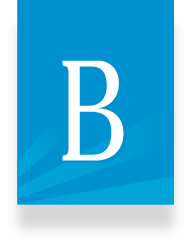 Ready to Experience the Beacon Difference?
Schedule an introductory consultation with Dr. Mohab Foad to learn what treatment options will be best to help you overcome your injury or chronic condition. It is our goal to help you return to the activities you love as soon as possible.
Book an Appointment