Joint Replacement in Cincinnati
Beacon Orthopaedics is home to many of the region's leading joint replacement specialists and orthopaedic physicians who are passionate about helping you reduce or cure joint pain and return to enjoying life. The sub-specialty trained orthopaedic doctors to understand how debilitating hip, shoulder, and knee pain can be. It is important to consult with a specialist to determine the best treatment option to relieve your joint pain.
Dr. Mohab Foad and Dr. Sam B.H. Koo both perform micro-joint replacements on degenerative finger joints.  Dr. Adam Miller, a sub-specialty trained orthopaedic foot and ankle physician is a leader in ankle replacement surgeries.  This page will focus on the more common hip, knee, and shoulder replacements.
Joint Pain Treatment
The experts at Beacon Orthopaedics are not jack-of-all-trades doctors.  They each received additional training in a specific area of expertise. For example, some focused on hand and wrist surgery, while others specialized in hip and knee replacements.  This ensures that the physician treating your case does hundreds of similar cases each year, rather than a handful of everything. The orthopaedic surgeons may recommend regenerative medicine, physical therapy, arthroscopic surgery, partial joint replacement, or a total joint replacement surgery.
Patients benefit from our physicians' deep knowledge of treatment options to relieve joint pain, ranging from conservative, non-surgical options all the way to joint replacement.  It is our goal to help each patient recognize their treatment options, and to provide a high level of comfort in deciding which treatment option to pursue.
Often times, the more quickly an expert opinion is sought, the more conservative the treatment options.  For this reason, it is important to see a doctor as soon as you begin experiencing joint pain so that you may take steps to reduce pain before surgery is necessary.  For most patients, physical therapy or regenerative/restorative injections may be recommended. Our orthopaedic experts reserve surgical intervention for when more conservative options have failed.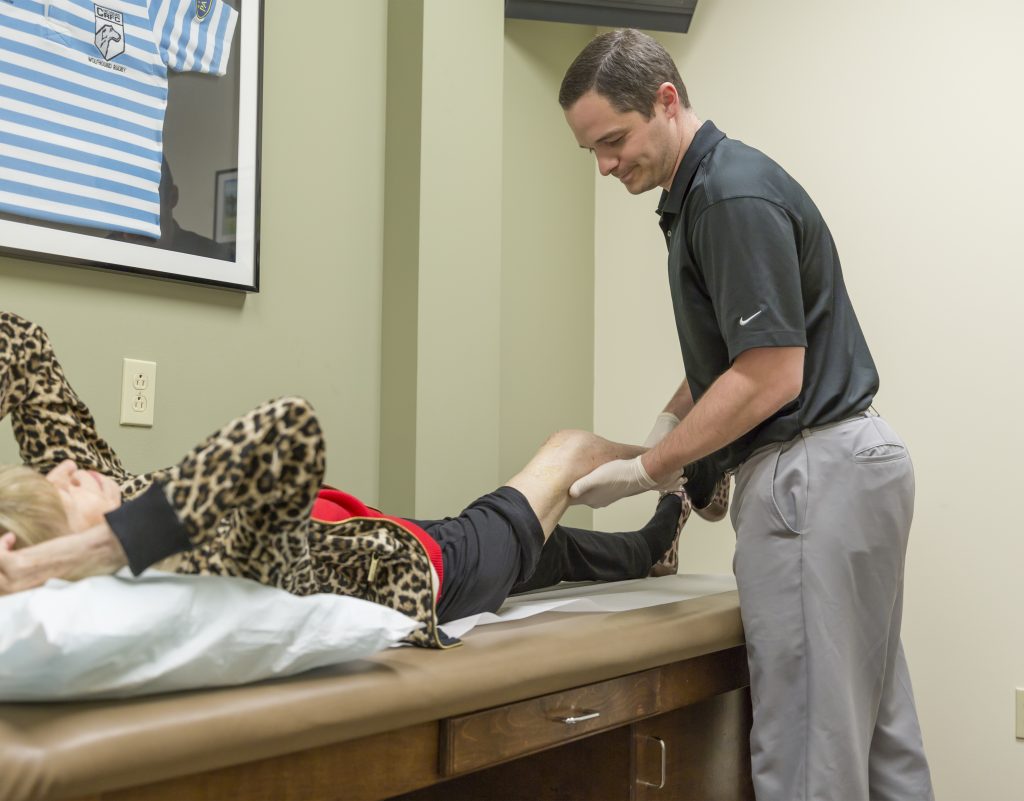 Total Joint Replacement
Most cases of joint pain are caused by degenerative damage to your articular cartilage, the cartilage that lines the ends of your bones.  The breaking down of cartilage is usually caused by overuse, arthritis, an injury, or another condition.
When lifestyle changes, physical therapy, injection therapies (such as stem cell or PRP) are no longer effective at reducing your joint pain, your doctor may recommend total joint replacement.  Please note that if it is your knee, an orthopaedic surgeon may be able to recommend a partial knee replacement, in which only a section of damaged cartilage is replaced. In a total joint replacement, the arthritic or damaged parts of the joint are replaced with an artificial joint made of metal, plastic, or ceramic called a "prosthesis".
Procedure
Total joint replacement surgery is a procedure that typically takes around one hour to complete, and will be conducted in an ambulatory surgery center, like those found at Beacon Orthopaedics, or, in some cases, a hospital. During the surgery, the physician will remove the damaged bone and cartilage and replace them with a prosthesis.  The inserted prosthesis is designed to mimic the shape and motion of a natural joint.
For minimally invasive hip replacements, the incision is usually only a few inches and appears on the front of the hip.  Partial and total knee replacements are often done through the front of the joint. Shoulder replacement incisions vary depending on how the surgeon is performing the operation.  In the case of a reverse total shoulder replacement, the incision is made on the front of the joint.
Complications
In rare cases, it is possible to experience some negative side effects and complications from a total joint replacement.  Although the below complications only occur in very rare instances, most can be caught quickly and treated successfully.  If you experience and complications following surgery, please call your physician immediately so that proper action can be taken.  If a problem is noticed and addressed early, long-term problems can usually be avoided:
Infection or unusual swelling around the total joint area – Your physician should be alerted to any and all allergies and sensitivities to help reduce the propensity for any allergic reactions.
Blood clots – Each patient is provided with compression stockings and a continual motion device.  Physical therapy is also started within 24-hours of surgery, to ensure proper blood flow around the new joint.
Nerve injury – At Beacon Orthopaedics, we use advanced imaging technology prior to and during the joint replacement surgery to reduce the likelihood that a surgeon will inadvertently damage a nerve.
Prosthesis problems such as dislocation or loosening – Since we have representatives from our providing companies (often Zimmer, Arthrex, or DePuy, depending on the type of surgery and patient's specific case) on-site during the procedure, it is very rare that a prosthesis will dislocate.  Some minor clicking is normal, however, if you experience symptoms like popping or limited range of motion, please contact your surgeon immediately.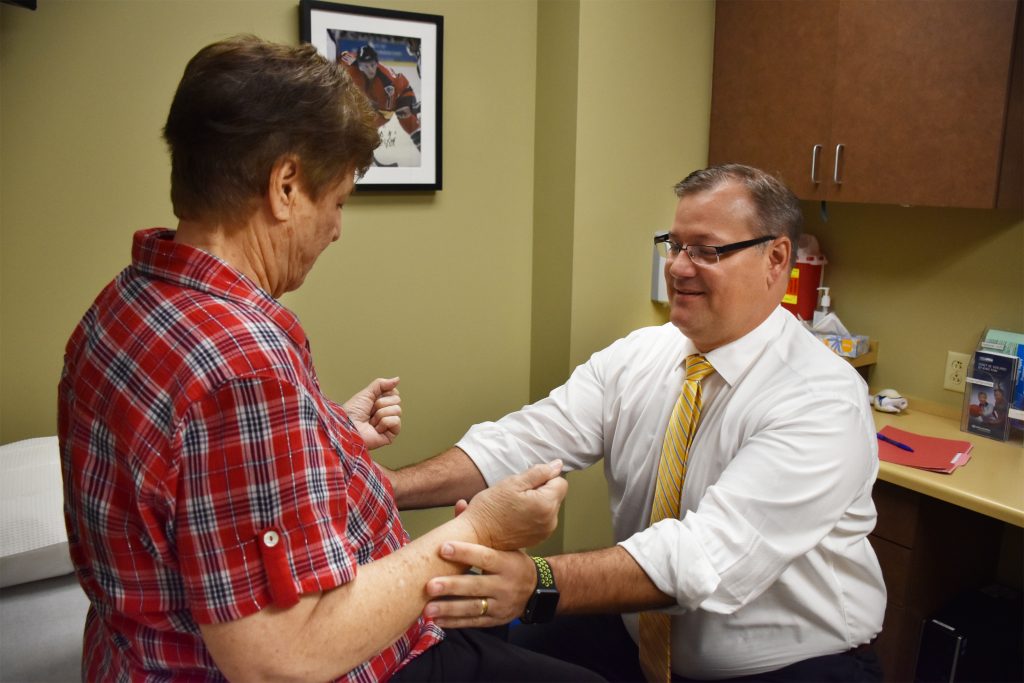 Rehabilitation
Rehabilitation and recovery will be different for every patient, depending on a variety of factors.  In most cases you will be encouraged to begin using your new joint soon after the completion of your surgery.
If you have lost muscle support around the joint before the surgery, recovery may take longer than desired.  Your doctor may recommend a pre-surgery physical therapy regimen in order to prevent this.
It is very common for patients to experience some amount of soreness for a few months after surgery.  This is caused by weak surrounding muscles, the body's adjustment to the new joint, and the healing process of the tissue.
Outcome
The comprehensive medical exam before diagnosis, applications of conservative treatments, expertise of the joint replacement surgeons at Beacon Orthopaedics, on-site representatives during the procedure, and seamless communication between surgical staff and physical therapy go a long way in ensuring a great outcome.  As long as you follow the recovery instructions of your physician and physical therapist, you should be able to perform activities with more comfort and greater range of motion than before the joint replacement. New joints are estimated to last for two to three decades and provide an improved quality of life with less pain, and improved motion and strength.
Schedule A Consultation
Beacon Orthopaedics has experts in all areas of joint replacement.  If you are suffering from arthritis or undiagnosed joint pain, a hip, knee, or shoulder replacement surgery may be the best treatment option for you.  Patients can schedule with an expert at Beacon Orthopaedics online or by phone 24/7 by calling (513) 354-3700.