Our Physicians
Matthew A. Johansen, M.D.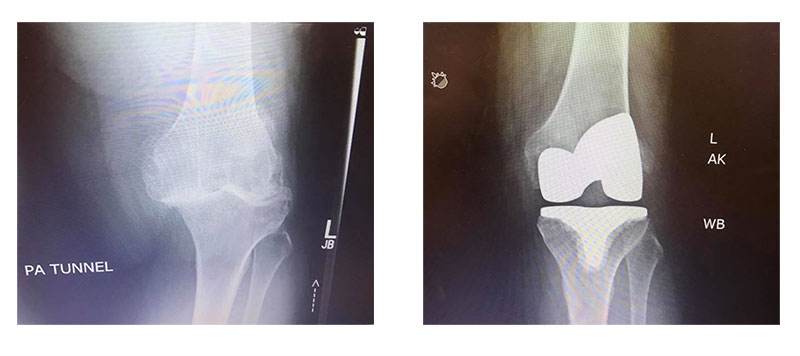 Old knee is on the left and new knee is on the right. Dr. Johansen said I had one of the worst knees he's ever seen. This new knee is 3 weeks post op and I'm going back to work next week. Dr. Johansen at Beacon did an amazing job!
-Lisa M.
Dr. Johansen was awesome. He listened to my concerns and did a thorough exam. He took time to explain everything to me. I would highly recommend him to others.
-Jennifer B.
On December 15th I had a total knee replacement. Dr. Matthew Johansen was the surgeon and Rachael Dilts was the scheduler. Rachael answered every question and concern I had, and I had A LOT! It was my choice to have the procedure done at a hospital or the Beacon Surgical Center at Summit Woods. I chose Summit Woods Surgery Center, and I'm so glad I did! The staff made me feel as though my comfort was their own concern… Never did I feel rushed so they could move on to the next patient.  I felt like every single person that cared for me, truly CARED for me. I chose to stay overnight and the overnight RN's never, not one time, interrupted my sleep. No one can ever say that about a hospital! Jess and Kelly my nurses were so compassionate, always making sure I was comfortable and hydrated. I commend Beacon Orthopedics for having the best Doctors, staff and the cleanest locations in the Tri-State area.
-Debi C.
He took the time to fully explain things and I felt he really cared about what I have been experiencing. He didn't rush through the appointment like some physicians do.
-Susan V.
Seamless execution among everyone I encountered. Dr. Johansen is an amazing addition to the Beacon team and I would refer anyone to Beacon.
-Amy B.