Our Physicians
Matthew A. Johansen, M.D.
In 2018, I experienced a severe weakness in my right hip. After consulting a group that was familiar to me and being dissatisfied with the experience, I chose to consult with Beacon and Dr. Johansen. From the first time I met with Dr. Johansen, I felt that my health mattered to him. He spent time speaking with me directly and made me feel both comfortable and confident. This feeling continued as all aspects of the experience was superior. From his able and supporting staff, to the surgery center personnel, to the office and even the finance people, I never felt uncomfortable or ignored. All made me feel that the primary focus was my health and recovery. In 2020, it was necessary to replace my other hip. I never hesitated to return and the experience was every bit as good as the first time. I always felt that I mattered and they were my team to make me feel good again.
Hip replacement is major surgery but I never had any doubts or misgivings about my care. I would (and have) referred people that I have talked with to Dr. Johansen and Beacon and will continue to do so. Thank you to all!
-Steve S.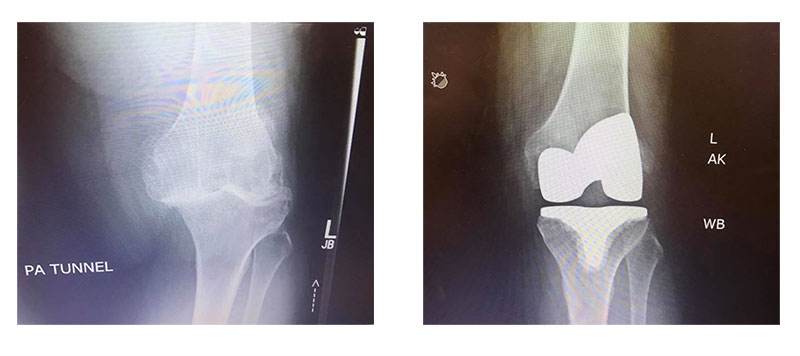 Old knee is on the left and new knee is on the right. Dr. Johansen said I had one of the worst knees he's ever seen. This new knee is 3 weeks post op and I'm going back to work next week. Dr. Johansen at Beacon did an amazing job!
-Lisa M.
Dr. Johansen was awesome. He listened to my concerns and did a thorough exam. He took time to explain everything to me. I would highly recommend him to others.
-Jennifer B.
On December 15th I had a total knee replacement. Dr. Matthew Johansen was the surgeon and Rachael Dilts was the scheduler. Rachael answered every question and concern I had, and I had A LOT! It was my choice to have the procedure done at a hospital or the Beacon Surgical Center at Summit Woods. I chose Summit Woods Surgery Center, and I'm so glad I did! The staff made me feel as though my comfort was their own concern… Never did I feel rushed so they could move on to the next patient.  I felt like every single person that cared for me, truly CARED for me. I chose to stay overnight and the overnight RN's never, not one time, interrupted my sleep. No one can ever say that about a hospital! Jess and Kelly my nurses were so compassionate, always making sure I was comfortable and hydrated. I commend Beacon Orthopedics for having the best Doctors, staff and the cleanest locations in the Tri-State area.
-Debi C.
He took the time to fully explain things and I felt he really cared about what I have been experiencing. He didn't rush through the appointment like some physicians do.
-Susan V.
Seamless execution among everyone I encountered. Dr. Johansen is an amazing addition to the Beacon team and I would refer anyone to Beacon.
-Amy B.