Featured Physician: Robert Burger, M.D.
July 1, 2020
Robert Burger, M.D., is a founding member of Beacon Orthopaedics, served as President of Beacon for six years, and was a member of the Executive Committee for Beacon's first 20 years. He also has been the Medical Director and Head Team Physician for Xavier University athletics since 1999. Enjoy learning more about Dr. Burger!
What is your specialty?
My specialty is Sports Medicine, Knee & Shoulder Surgery, and Total Knee Replacements
What attracted you to your specialty?
I was attracted to orthopaedic surgery and sports medicine because of my personal involvement in sports, playing college football at the University of Notre Dame. While I was fortunate to stay relatively healthy, I had many teammates sustain serious injuries that required surgery, and in some instances ended their playing careers. I also had an uncle, Dr. Eusebio Gaw, who was a Hand Surgeon/General Surgeon, and he encouraged me to strongly consider medicine as a career, while I was an undergraduate student pursuing a degree in Chemical Engineering. Working in Sports Medicine/Orthopaedic Surgery provides me with the opportunity to positively impact a patient's life by restoring, enhancing, and perserving one's physical function, mobility, and independence. I am privileged to work with patients and families in the Greater Cincinnati area that my family and I consider to be our home.
What is your favorite part about being an Orthopaedic Surgeon?
One of the most fulfilling aspects of working as a founding orthopaedic surgeon is Beacon is to witness firsthand the growth and success of Beacon Orthopaedics over the past twenty plus years. Beacon has grown geographically and specialty-wise so that we can now provide the highest level of expertise, professionalism, and care to patients throughout the entire region that we serve. I am also proud to have witnessed personally the growth and success of many orthopaedic surgeons in our group. Dr. David Argo and I first met when he was a bright young chemical engineer working for Procter & Gamble, and he was considering a career change to medicine. He and I shared many common bonds, and I am proud to say that a generation later, Dr. Argo is a most talented and successful physician and surgeon in our group. I have been blessed to know Dr. Robert Rolf since he was a young teenager, and I have proudly witnessed his personal and professional growth, and I am proud that he is a most trusted partner and an exceptionally gifted Shoulder Surgeon who thrives at Beacon. Likewise, I had first met Dr. Steve Hamilton while treating him when he was a fifth grader, and now Steve is excelling as a most innovative and talented surgeon in our group. As I reflect upon the success and growth of Beacon, I am proud to have served in some small way as a mentor for these most gifted physicians, and it is most gratifying to me to consider them not only as professional partners but also as trusted surgeons and friends.
Do you have any advice for young people that want to be doctors when they grow up?
My advice to any young person considering medicine is to first trust the gifts that the Good Lord has given each of us, and to also trust the Good Lord's plan for each of our lives. There are many potential careers in the medical field, and all of them are fulfilling and provide ample opportunities to help others during a time of need and vulnerability. Don't ever underestimate the positive impact that health care providers can make in people's lives. Working as a physician is a special calling, and it demands a certain aptitude and intellectual ability, a lifelong commitment to learning, a strong work ethic, an openness to grow as a person, and a desire to serve others in a positive way. I consider it a privilege to work in this community as an Orthopaedics Surgeon and Sports Medicine Physician, and the field of medicine has been most fulfilling yet humbling, demanding yet rewarding, and challenging yet gratifying way for me to give back to others in a time of need.
What is an interesting fact about you that not everyone knows?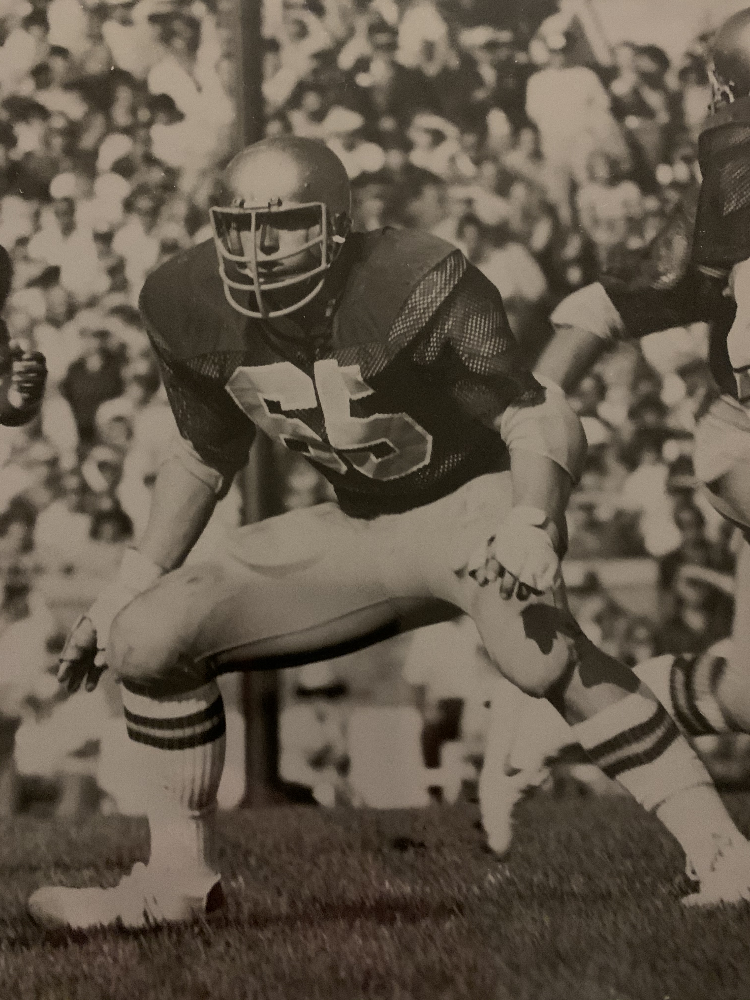 Growing up in a family that loved sports, I was an avid fan of Notre Dame football and Cincinnati Reds baseball. I was most blessed to attend Notre Dame on an academic scholarship, where I walked on and made the Notre Dame football team as a freshman, snapping to Joe Montana that year in practice on a team that won the 1977 National Championship. I am proud to have earned a football scholarship at Notre Dame, started at offensive guard on a team that went to the Sugar Bowl in 1980, and be named an Academic All-American and later on an Academic All-American Hall of Fame member.
My wife Felicia and I are blessed with four sons, who all walked on to their college teams and all four earned athletic scholarships a generation later. (Bobby-football: University of Notre Dame- fullback/tight end; Chris- golf: Xavier University; John- golf: Xavier University; Joe- football: Ohio State University-linebacker). I was proud and privileged to work as team physician for the Cincinnati Reds, and I am also blessed to serve as head team physician for Xavier University, my father's Alma Mater and the school that two of my four sons attended and graduated from. Having played college football myself and lived through the successes and challenges of athletics in our sons' lives, this helps me appreciate the positive value of sports and also better appreciate the adversity that an athlete and his/her family experiences when an injury potentially threatens one's athletic career and the dreams of a young person.
Felicia, my wife, grew up in eastern Cincinnati, graduated from Anderson High School, then earned her BS in Nursing from the University of Tennessee, before earning her Master's Degree as a Nurse Practitioner from IUPUI in 1988.  She sacrificed her professional career to raise her four sons: Bobby (32), Chris (30), John (27), and Joe (26) – who is now beginning his second year of Medical School at Ohio State University.
If you were a pair of shoes, what kind would you be?
If I were a pair of shoes, I would be a durable pair of football cleats, a pair that has made it through more than one season, through the heat and the cold, the rock-hard ground and the mud, yet still keeps its traction and pushes forward each day, taking on whatever tasks and challenges comes its way.
+