From the Hardwood to the OR: Dr. Drew Burleson's Story
August 18, 2020
When Drew Burleson was a senior in high school, life was good. He was a standout on the basketball court and in the classroom. He even got the chance to play against a 17-year-old at the time named LeBron James, multiple times. He earned a scholarship to continue his playing career for Wright State. It was there he found his life's purpose.
As a collegiate student-athlete, he learned discipline — juggling rigorous training and weight lifting before, during and after each season, three to four hour practices, film sessions, and road trips, in the midst of a tough academic schedule. He developed patience too, and teamwork, dedication and resilience. Perhaps most importantly, he learned about the restorative power of orthopedics and sports medicine and the critical role they play in helping athletes and non-athletes alike live life to the fullest.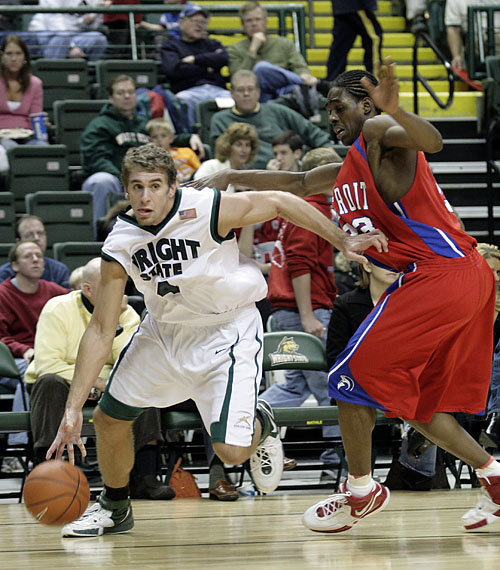 "The orthopedics and sports medicine staff at Wright State was instrumental in shaping my passion for orthopedics," Burleson said. "Being around their team and seeing their passion in getting athletes back on the court was really refreshing."
As a four-year starter on the Raiders basketball team, Burleson endured his share of injuries, some nagging and minor and others more serious. He spent time with the team's medical and athletic training staffs and chatted up the team doctors frequently, even shadowing on multiple occasions. He was amazed at how their skill could transform athletes and get them back to full strength and doing what they love. They did it for him, and they did it for countless others. Burleson had found his calling. Make that Dr. Burleson.
He stayed at Wright State for medical school and did his fellowship at the Kerlan-Jobe Clinic in Los Angeles. While there, he provided care for some of the world's elite athletes as assistant team physician for the Los Angeles Rams, L.A. Dodgers, L.A. Kings, L.A. Clippers, L.A. Galaxy, L.A. Sparks, Anaheim Ducks, Anaheim Angels and University of Southern California football team.
"To see those athletes on a day-to-day basis was really eye opening. Their bodies are their life in a way, and they all worked extremely hard to take care of that. It was truly a dream come true to be a part of it."
In 2018, Dr. Burleson joined the growing team at Beacon Orthopaedics & Sports Medicine, combining expertise in the latest surgical techniques for the knee, hip, shoulder and elbow with the high-level playing experience that only a former athlete can bring. Now working from locations in both Dayton and the Cincinnati Sports Club, he understands the physical aspects of injuries and recovery, but also the emotional and psychological toll they can have.
"I understand how hard an athlete works at their craft, and to have an injury, it can be difficult both physically and mentally. I can really sympathize with patients who just want to get back on the floor, and my staff's number one goal is to help them accomplish that."
In today's ultra competitive athletics environments, Dr. Burleson recommends a well-rounded approach for young athletes. Don't specialize too early and play multiple sports if you have an interest (Dr. Burleson played four sports in high school before focusing solely on basketball in college). When you're feeling pain and discomfort, physically or emotionally, seek help. Don't let the small problems fester into bigger ones. And perhaps most importantly, don't let orthopedic issues stop you from doing the things you love or the jobs you need. There are always solutions to explore.
"At the end of the day, my medical staff and I want what's best for the patient. We want to help them get back to their normal routine. In doing that, we strive to provide top level care to everyone that walks in the door."
To learn more or schedule an appointment with Dr. Burleson, click here.
+