Dr. Adam Abraham: Redefining Orthopedic Care with Compassion and Community
November 15, 2023
In a candid chat with Beacon's Dr. Adam Abraham, the main topic wasn't all about medical degrees and clinical routines. It was a heart-to-heart discussion about his vision for healthcare accessibility and an empathetic approach to orthopedic care.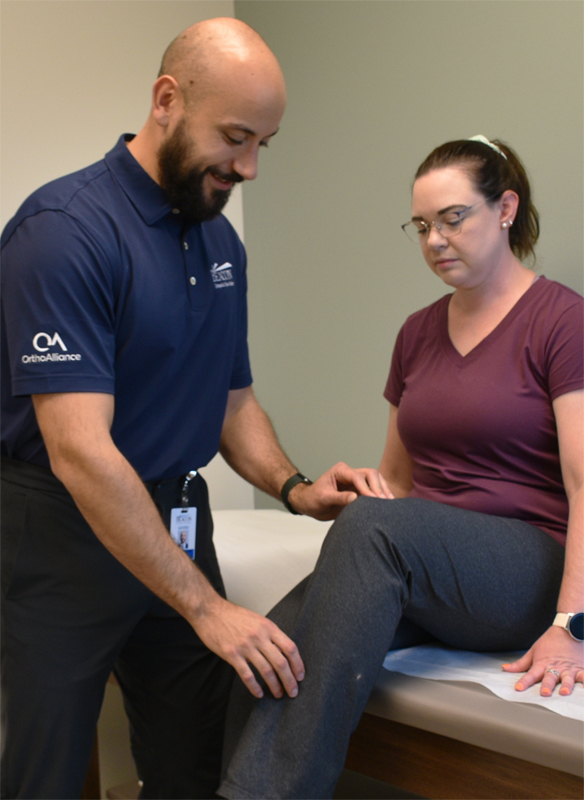 When Visions Align
"As a Cincinnati native, Beacon was always a name that I had in the back of my mind throughout my training and career," revealed Dr. Abraham right from the start of our conversation.
Now, as a Pain Management Specialist for Beacon, "Beacon" has taken on a much more significant meaning to Dr. Abraham. He considers Beacon's extensive network, a wide range of specialists, diagnostic services, and physical therapy the perfect match for his vision of how healthcare should be. He believes patients should be able to access the care they need when needed, and Beacon's capabilities provide precisely that.
"It's all about accessibility when it comes to medicine. So, in terms of any orthopedic or pain-related issue a patient may be experiencing, somebody at Beacon can help," said Dr. Abraham. "We have doctors who specialize in everything from knee to hip, spine, and more — offering options from non-operative treatments to the most advanced surgical specialties. And with offices throughout the area, patients can get help based on their schedule and location."
Dr. Abraham's approach to patient care is something to admire. He doesn't just treat patients; he empowers them. His primary focus is on setting goals and helping patients achieve them. For him, reducing pain should be about enabling patients to regain their lives, not chasing a pain-free existence.
"I very much like to meet patients where they are. If they don't like medications, I don't like medications. If they feel like they need medication to help, I find something to help," said Dr. Abraham. "As much as I love doing procedures, I will only do them if I think it's going to help my patient."
Dr. Abraham went on to explain, "If somebody has degenerative disc disease or stenosis and it's not causing problems, then there's nothing to do about it. We treat patients not pictures."
Here to Serve the Mason Community
Dr. Abraham works from one simple foundation: treat patients the way you'd treat your family. This compassionate approach is the cornerstone of his practice. Looking ahead for Mason Stadium Complex, he envisions a thriving practice, not just as a center for medical excellence, but as a trusted asset to the community. His goal is to do more than fill clinics; it's to provide exceptional care and live up to community expectations.
"We're here to provide a critical service to the community," said Dr. Abraham. "I will work every day to help ensure we live up to their expectations. That's what it is all about. We're here to serve them."
Dedication to patient-centered care and a commitment to the community are hallmarks of Dr. Abraham's career. One that also embodies passion, understanding, and the unwavering pursuit of excellence. His vision for the future is a testament to his belief in accessible and compassionate healthcare for all. 
A Cincinnati Native All About Family
To truly know Dr. Abraham, you have to know about his roots — and they're right here in Cincinnati. He attended Princeton for elementary and junior high school and then went to Sycamore High School before completing his undergraduate studies at the University of Cincinnati.
Those formative years revealed to him he had a calling in medicine. That understanding led him to pursue medical school at the University of Toledo, which he followed with a residency at the Cleveland Clinic focusing on Physical Medicine and Rehabilitation (PM&R). From there, it was back to Cincinnati for an internship at Christ Hospital before heading north again for his interventional pain fellowship at DMC Wayne State University in Detroit. 
He was carving his own path to discover where his calling would take him. Turns out — it would bring him right back home to Cincinnati.
For Dr. Abraham, success is indelibly tied to the people who matter most to him and the communities he cherishes. For he and his wife, the plan was always to return to Cincinnati if possible. 
"Cincinnati was our top priority. It was divine timing how everything just worked out together," revealed Dr. Abraham. "I didn't think Beacon and Mason would be a combined possibility. I couldn't have imagined ending up here in my wildest dreams."
+