EPAT (Extracorporeal Pulse Activation Technology)
Extracorporeal Pulse Activation Technology (EPAT), also known as shock wave therapy, is an office-based, non-invasive, evidence-based, FDA compliant treatment for upper and lower extremity musculoskeletal pain that results from acute and overuse injuries. These injuries can be due to athletic, work, recreational, and normal daily activities.
This treatment was pioneered many years ago in medicine and became a very effective non-surgical treatment for kidney stones. It has been tailored and modified to Orthopedics and Regenerative Medicine over the last decade and is a mainstay of treatment in Europe and Asia, where there is a strong focus on non-invasive musculoskeletal treatments.
Here at Beacon Orthopaedics & Sports Medicine, Dr. Henry Stiene performs the treatment. Dr. Stiene's interests include working with orthobiologics such as platelet injections and bone marrow concentrate to treat arthritis of knee, hip, shoulder, elbow, hand, wrist, foot and ankle as well treating chronic overuse and sports injuries to the tendons, ligaments, and muscle of these joints.
The acoustic sound waves penetrate deep into injured tissue and increase blood supply and metabolism to injured cells, especially those of tendons such as hamstrings, achilles, plantar fascia, as well as the tendons around the knee, shoulder and elbow to name a few. Tendons attach muscles to bone and as a result of injury and overuse, scar tissue develops in the tendon, which is known as tendinosis. The acoustic sound waves delivered by EPAT, will break up this scar tissue allowing it to heal. If the tendinotic tissue contains calcifications, which are often very painful, the sound waves can break up the calcification, much like they do with kidney stones. It is also a very useful treatment for chronic shin splints (periostitis).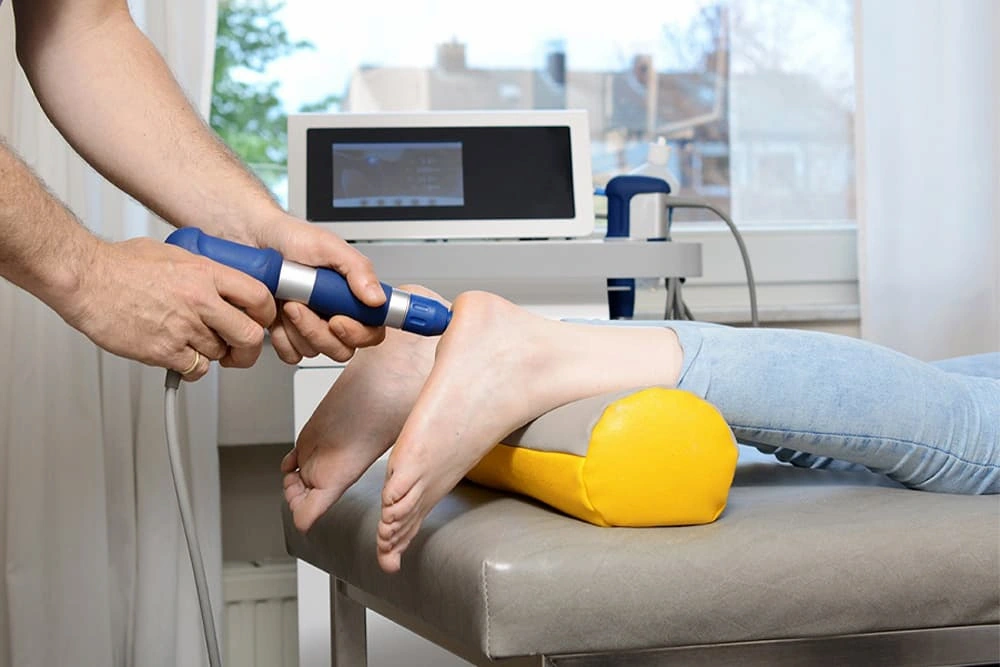 Prior to receiving EPAT treatments, a thorough medical history and physical examination is performed. This may be followed by imaging such as ultrasound or MRI to precisely and accurately determine the origin of the pain. This information will help establish if EPAT treatments are appropriate for you.
EPAT is performed in the exam room. Ultrasound gel is placed on the skin over the area being treated and the probe is positioned over the area of maximal tenderness. The settings on the probe are adjusted in such a manner that the treatment is not painful, although there may be some soreness involved, but after a few minutes, that too, may subside. A benefit of this treatment is that no anesthesia is needed. Treatments usually take about 10-15 minutes. Depending on the condition being treated and how long the symptoms have been present, most patients will need 3-5 treatments done on a weekly basis. Most patients will notice a reduction in pain after the third treatment although some may experience pain relief sooner. Those that have symptoms for an extended period of time may take longer to improve. It may take 6-8 weeks after treatment to achieve a full benefit.
There are NO NEEDLES or INJECTIONS used with EPAT! There is no need for crutches, braces, slings, or pain medicine. Dr. Stiene and his staff will formulate a return to activity program based on the nature, chronicity and location of your injury. With EPAT, one of the biggest benefits is that there is minimal downtime after treatment. You can remain active, but not to the point where a given activity increases your pain while or during the specific activity as the injury needs to be given time to fully heal. Certain high impact activities and those involving repetitive motion may be restricted a bit longer depending on your individual situation.
EPAT make be combined with other regenerative treatments such as bone marrow concentrate (BMC) depending on your injury. For instance, if you have a tear in a tendon superimposed on tendinosis (scar tissue), both treatments may be used to help the torn tendon heal, absorb scar tissue, and restore healthy tendon.
Physical therapy may also be part of the treatment program given that the nature of the injuries treated with EPAT often result in loss of motion, strength, and function. EPAT can certainly jump start the healing process and relieve pain, but rehab may be needed to regain full activity and prevent recurrence
Side effects are minimal as there is no penetration through the skin making an infection extremely rare. There may be some redness or soreness at the treatment site for a few days.
If you have bleeding disorders, blood clots, use anticoagulants (blood thinners), have certain malignancies or are pregnant, EPAT cannot be used.
While FDA compliant, and evidence-based most US insurers do not pay for EPAT although the cost can be used toward a qualified health savings account. Beacon has patient advocates that can take you through this process.
EPAT is an innovative technology which we have incorporated into our continuum of care. We are pleased to report that we have had excellent results and high patient satisfaction; ultimately helping them to get better faster and back to the activities they love.