January 1, 2021
Hip pain can come in many forms with varying degrees of severity.  Dr. Shaw evaluates patients of all ages for hip pain.  Since he performs both hip replacement and hip arthroscopy, he is able to approach each specific problem with the best treatment. Total hip arthroplasty (THA) is typically performed for patients with uncontrolled hip and groin pain that have significant arthritis in the x-ray.  Dr. Shaw uses the anterior hip approach in which a smaller incision is made on the front of the hip to perform the surgery.  No muscle cutting is performed, and pain is minimized.  Patients typically go home the same day of surgery.  A multimodal pain medicine approach is used so that narcotics are minimized.  Patients are under a regional anesthetic for most surgeries.  A general anesthetic may be used at times. A special table called a Hana table is used to allow the supine position and traction on the leg.  Immediate weight bearing is allowed after surgery, and physical therapy is performed prior to leaving the surgical center.  The minimal anterior incision is very cosmetic and in a location to allow excellent wound healing.  Fluoroscopic live images are used throughout the surgery so that all implants are placed with direct visualization.  Measurements of leg lengths can easily be done with this technique so that the hip is reconstructed to an anatomic position.  The anterior approach allows excellent hip stability, whereas hip dislocation through other approaches is a large risk in hip replacement surgery.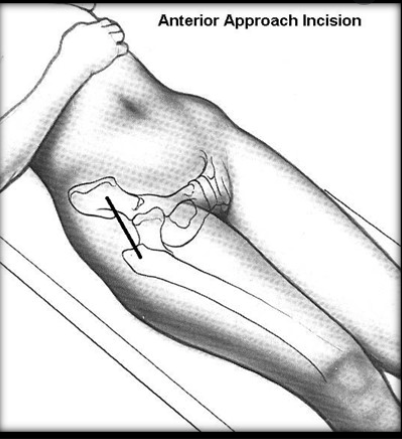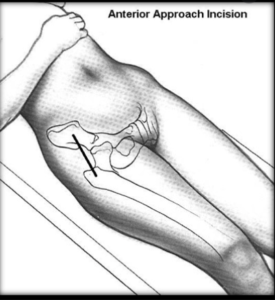 Patients usually need about 1 month of physical therapy.  Simply walking is the most important rehab exercise.  Patients feel they are 80-90% healed from surgery at 6 weeks post op. The long term results of THA are excellent with pain relief and return of function.  Most activities can return after surgery except running and jumping activity.
For more information, please see the below link from Zimmer Biomet which are the implants Dr. Shaw uses.
https://www.zimmerbiomet.com/patients-caregivers/hip/about-hip-replacement.html
+