Frozen Shoulder: Symptoms, Causes and Treatment
June 8, 2017
The shoulder is one of the most complex joints of the body. In its most simplified form, it is made up of the humerus (bone in upper arm), scapula (shoulder blade), and clavicle (collarbone), as well as numerous muscles, ligaments, and tendons that provide the shoulder with its full range of motion. There are also several bursa throughout each shoulder. These fluid-filled sacs sit between bones, providing lubrication that allows for painless movement.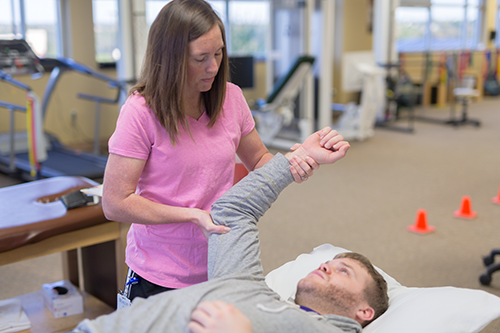 This high level of complexity is what allows you to extend your arm forward and backwards; raise it upwards and lower it downwards; and rotate it in a circular motion. When the shoulder is healthy, these motions can be made with very little effort. Unfortunately, the shoulder's intricacies also place it at greater risk of problems. Even a relatively minor injury that begins in one area of the shoulder can eventually make the whole region more difficult to use. In addition, movement will become much more limited and painful.
Frozen shoulder, also known as adhesive capsulitis, is one such condition that begins mild and becomes worse if not treated early. However, unlike more well-known conditions–such as shoulder arthritis, impingement, and rotator cuff injuries—it is often not identified as the source of someone's discomfort until symptoms have become more severe. This is why it's important to know about the condition/recognize symptoms, so patients can see an orthopedic specialist for early treatment.
What are the Symptoms of Frozen Shoulder?
As the name implies, the hallmark sign of frozen shoulder is the inability to move the shoulder. It is primarily caused by the shoulder capsule thickening; however, stiff bands of tissue called adhesions can also contribute to the stiffness. Pain is also caused by a reduction in synovial fluid in the joint, which is meant to reduce friction during movement.
Symptoms of frozen shoulder typically develop slowly over a span of several months up to about two years. The development of symptoms can be classified into four stages: a pre-freezing stage, a freezing stage, a frozen stage, and a thawing stage.
The Pre-Freezing Stage (Months 1-3)
The shoulder will ache when not in use and develop a sharp pain with movement.  Individuals will also notice a mild reduction in their ability to raise and rotate their arm, as well as reach behind their back.
While it may be difficult to distinguish the early signs of frozen shoulder from other, similar conditions, it is best to see any orthopedic specialist for any condition that lasts longer than two weeks. This is because most acute injuries resolve with rest, ice and immobilization within one-two weeks.
The Freezing Stage (Months 3-9)
Individuals will experience a progressive loss of shoulder movement. Scar tissue will also form and the bursae in the shoulder will become inflamed, causing increased pain.
The Frozen Stage (Months 9-14)
Individuals will experience a severely limited range of motion. At this point, the stiffness will make common tasks like cleaning or putting away groceries difficult. Severe pain will also persist during the early part of this stage but will likely decrease or go away entirely toward the end.
The Thawing Stage (Months 15-24)
The shoulder's strength and range of motion gradually returns to normal.
What Causes Frozen Shoulder?
When a shoulder starts to freeze, some of the ligaments that connect muscles to bones are replaced by scar tissue. This scar tissue is not only brittle and inflexible, but it can also cause painful inflammation in the shoulder, especially the bursa.
It's not known what causes a shoulder to freeze in the first place; however, there is clear data about who it is most likely to affect. Frozen shoulder occurs most frequently in women aged 40-60. It is also more prevalent in individuals who have diabetes, hyper- or hypothyroidism, cardiovascular disease, tuberculosis, or Parkinson's disease. Individuals who are recovering from a shoulder injury are also at higher risk for frozen shoulder because an underused shoulder is more likely to freeze.
Treatments for Frozen Shoulder
Stretching and exercise can help manage the symptoms of frozen shoulder, no matter what stage a person is in. In fact, it's highly recommended to both talk with a physician and begin regular stretching immediately after noticing the first signs of the condition. Stretching will not only strengthen the shoulder, but it will also help maintain mobility and reduce the buildup of scar tissue.
Finger Walk Exercise
Face a wall and stand about an arm's length away.
Reach your arm straight out and touch the wall with your middle and pointer fingers only (it will be like you're holding up a peace sign).
With your elbow slightly bent, walk your fingers up the wall until you've gone up as far as you comfortably can. Your fingers should do all the work here. Also, make sure you stretch to the point of tension but not pain.
Exercise Band Inward Rotation
To do this exercise, all you need is a small resistance band and a door
Stand next to the closed door and hook one end of the band around the doorknob.
Hold the other end with your frozen shoulder arm and, while holding your elbow at a 90-degree angle, pull the band towards your body two or three inches and hold for five seconds.
Repeat up to 15 times if you are able.
Talk to a Specialist
Frozen shoulder, like any loss of mobility, is scary. The good news, though, is that early treatment will dramatically reduce the onset of severe stiffness and pain.
If you are experiencing the signs of a frozen shoulder, you can turn to Dr. Robert Rolf at Beacon Orthopaedics and Sports Medicine. With world class expertise in orthopedic surgery and sports medicine, he is uniquely qualified to treat patients with frozen shoulder as well as a range of orthopedic conditions related to the shoulder or elbow.
You can schedule an appointment online to meet with Dr. Rolf at Beacon West in Ohio, Beacon's Batesville or Lawrenceburg locations in Indiana, or Beacon's Northern Kentucky location.
+