Beacon Orthopaedics & Sports Medicine Announces NIL Agreement with Brothers Michael and A.J. Mayer
September 1, 2022
CINCINNATI – Covington Catholic High School graduates and brothers Michael Mayer, pre-season All American tight end for the Notre Dame Fighting Irish, and A.J. Mayer, a quarterback with the Arkansas State Red Wolves, have signed a Name Image Likeness (NIL) agreement with Beacon Orthopaedics & Sports Medicine.
The Mayer brothers – who grew up in Northern Kentucky and who are part of a family that has been treated at Beacon Orthopaedics for three generations – will appear in social media posts and advertisements for Beacon.
"I have been going to Beacon since I was a young kid, so I know they have top notch physicians and quality people," said Michael Mayer, a junior who last year was a semi-finalist for the John Mackey Award, which goes to the nation's top tight end.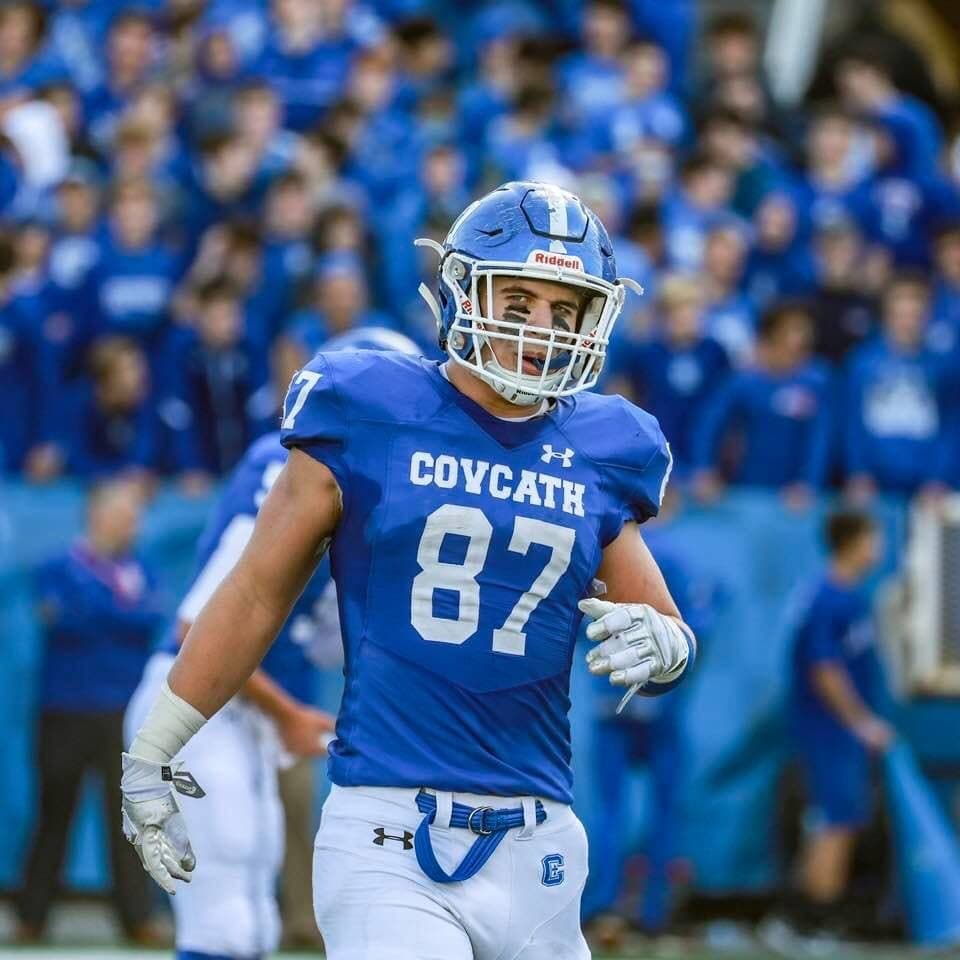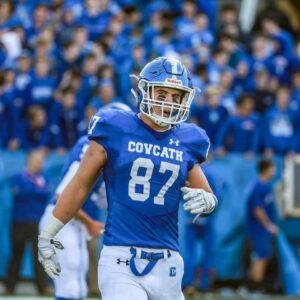 "I am really looking forward to telling people about all the good work they do," he said, "When I was offered a chance to work with Beacon, I felt like it was an opportunity I just had to jump on because I believe so much in what they do and how they do it."
Like his brother, A.J. Mayer was also treated at Beacon Orthopaedics after suffering injuries while in high school.
"I want to tell people how well I was treated at Beacon, as well as how much Beacon gives back to the community by treating people when they are injured or need surgery," A.J. Mayer said. "I really appreciate Beacon working with me and Michael. It is like we are coming home and telling the community about these great people we know. It is an honor to be part of the Beacon team."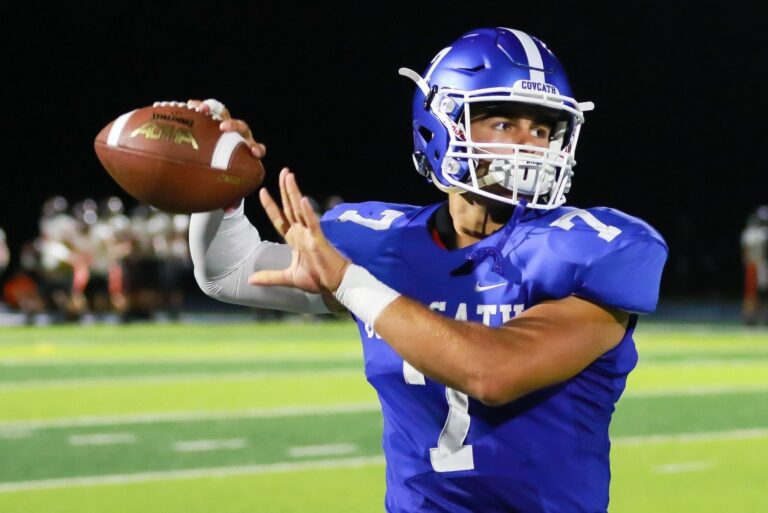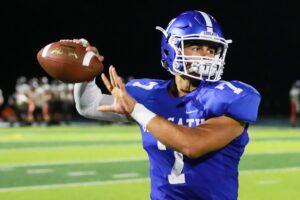 Beacon Orthopaedics spine surgeon Michael Rohmiller, M.D., also a Covington Catholic graduate and Northern Kentucky resident, has known and treated members of the Mayer family for years.
"They are a wonderful family, and I knew that Michael and A.J. – with all that they have accomplished and with what wonderful young men they are – would be tremendous representatives of what we do at Beacon particularly as they talk about their personal experiences with us," Dr. Rohmiller said. "The Mayer family is the perfect example of how at Beacon, we take care of people of all ages, helping multiple generations in the same family."
A relatively new development in the world of college sports, NIL agreements allow student athletes to be compensated for their likeness and sign endorsement contracts.
"NIL is great for athletes because it allows a player to build a personal brand and earn some money while still in school," A.J. Mayer said. "And the fact that I get to work with my brother through our agreement with Beacon makes this even better."
Michael Mayer said NIL agreements give student athletes real world experience and opportunities.
"This NIL agreement gives us a great chance to learn more about the business side of sports as well as an opportunity to make some money while we are playing," he said. "Overall, NIL has been good for student athletes."
Aligning with accomplished athletes such as the Mayer brothers provides a chance for Beacon Orthopaedics to showcase its expertise in sports injuries as well as promote how it develops long-term patient relationships.
"Beacon is known throughout the region as the premier sports medicine provider," said Beacon Orthopaedics Co-Founder and Chief Orthopaedic Surgeon for the Cincinnati Reds Tim Kremchek, M.D. "We are eager for Michael and A.J. – two of Greater Cincinnati's most accomplished student athletes – to tell their stories of being treated at Beacon, but also of how we have treated members of their family for years."
Beacon Orthopaedics Co-Founder and orthopaedic surgeon Robert Burger, M.D., was an offensive lineman on Norte Dame's 1977 national championship team and has treated high school athletes in Greater Cincinnati for more than 30 years.
"I am very excited that Beacon and Michael Mayer are working together," Dr. Burger said. "I watched Michael play in high school, and I'm very proud of him and very happy for his success as a local student athlete who has excelled on as well as off the field. When I first saw him play, I knew he was going places. He is a special kind of player."
Dr. Burger pointed out that Michael Mayer is one of a long line of outstanding Notre Dame tight ends, including Tony Hunter, a 1979 graduate of Moeller High School, and Newport Central Catholic 1987 graduate Frank Jacobs.
"There have been a lot of great tight ends at Notre Dame over the years – Leon Hart, Dave Casper, Mark Bavaro, Ken McAfee and others – and Michael is one of the best," Dr. Burger said. "As a former Notre Dame player, I'm excited to watch Michael this season and thrilled that he is part of our team at Beacon."
Both Mayer brothers will be in action Saturday. Michael and Notre Dame play The Ohio State Buckeyes in Columbus while A.J. – a graduate transfer from Miami of Ohio – and Arkansas State host Grambling State.
The Mayer brothers each had stellar high school careers playing for the CovCath Colonels.
Known for a strong arm and quick feet, A.J. led the Colonels to the 2017 Kentucky 5A State Championship, throwing for 3,114 yards and 40 touchdowns while leading CovCath to an undefeated 15-0 season. He was named MVP of the state championship game and graduated as CovCath's all-time leading passer.
While playing for the Colonels, Michael was named the 2019 Gatorade Kentucky Football Player of the Year and led CovCath to the 5A State Championship. And, just like his brother, he was named MVP of the title game. During his senior season he caught 49 passes and scored 15 touchdowns; on defense, he recorded 102.5 tackles and had four interceptions, including one for a touchdown.
At Miami of Ohio, A.J. started four games and saw action in seven games. One of his career highlights was coming off the bench to throw three touchdowns in leading the Redhawks to a victory over Ball State.
At Notre Dame, Michael caught 71 passes for 840 yards and seven touchdowns last year as a sophomore. He begins this season as a pre-season All American and is projected as an early NFL draft pick next year.
# # #
Schedule an Appointment with Beacon Today!
About Beacon Orthopaedics & Sports Medicine
Established in 1996, Beacon Orthopaedics & Sports Medicine has helped thousands of patients overcome injuries and improve their quality of life. Beacon Orthopaedics provides medical direction and coverage for over 30 local high schools, five college athletics programs, and professional teams including the Cincinnati Reds. With over 20 locations across Southwest Ohio, Northern Kentucky, and Southeastern Indiana, Beacon offers instant access to comprehensive orthopedic care, including sports medicine, physical therapy, athletic training, imaging services, regenerative medicine, as well as surgical procedures involving neck, spine, shoulder, elbow, hand, hip, knee, foot and ankle repair, reconstruction, and replacement. Beacon is the founding group of OrthoAlliance, a patient-centered, physician-led management services organization designed to help orthopaedic physicians grow and thrive in an evolving healthcare landscape. Since its founding OrthoAlliance has successfully grown into one of the leading platforms in the country.
+