Beacon Orthopaedics Research and Education Foundation Hosts Princeton High School
September 10, 2016
High School Senior Marcus Placke of Princeton has decided he wants to be an orthopedic surgeon. Placke, a resident of Springdale, OH had the unique chance to learn from and work with an orthopedic surgeon when the Beacon Orthopaedics Research and Education Foundation hosted Princeton High School. In fact, he was able to perform operations using some of the most advanced medical technology and an actual human knee. It was this experience that framed Placke's desire to pursue a career in orthopaedics.
"It confirmed I wanted to be an orthopedic surgeon," stated Placke as he reflected on the experience.
Dr. Andrew Razzano of Beacon Orthopaedics and Sports Medicine lead about a dozen students in Dave Buquo's Honors Anatomy and Physiology class. Dr. Razzano allowed the students to bring their classroom to Beacon's wet-lab on March 24. The students gained unique insights and real world applications as they tried out various procedures. These included arthroscopy and suturing of a cadaver knee.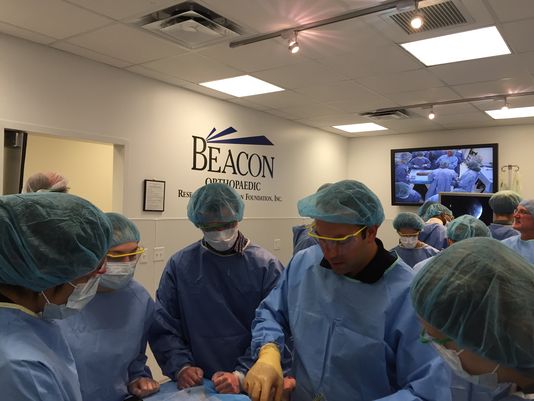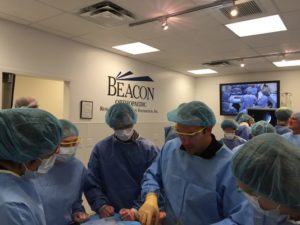 Through this program offered by the Beacon Orthopaedics Research and Education Foundation, students are able to learn and execute real-world procedures that doctors perform when treating patients. The incredible part is that the school doesn't pay anything for the invaluable experience. In the anatomy classroom at Princeton, students would typically perform a dissection on mink, because humans and mink have similar anatomical traits. In the lab at Beacon Orthopaedics, however, the students worked with actual cadaver limbs. This not only provides the authentic experience of an orthopaedics procedure, it allows the students to work with true human anatomy and physiology.
Buquo had nothing but great things to say about his class's experience.  The cadaver lab "puts a real-life spin on anatomy and physiology, and the importance of what we learn in class." He continued to elaborate that Dr. Razzano's presentation and the activities in the wet-lab reinforced his class curriculum.
The Beacon Orthopaedics Research and Education Foundation cadaver lab provides knees, spines, elbows, and more for classes to work with. Each lab usually focuses on one particular area of the body. With over 25 high schools participating this year, the surgeons at Beacon enjoy volunteering and sharing their life's work with the students. The doctors hope that it will inspire some students to pursue careers in medicine and research, who may not have considered those options previously.
The lab program for Princeton High School provided three stations for students to learn various aspects of knee procedures. These stations included grafting ligaments for an ACL reconstruction, arthroscopic surgery for an ACL repair, and suturing once the procedure is finished.
Students confirmed that the experience working in the lab on human tissue reinforced their interest in pursuing careers in medicine, particularly in the fields of research, nursing, and even medical school.
The students had a broad array of takeaways from the lecture and lab. Allen Clay Jr., a resident of Lincoln Heights observed that the class was "able to apply the knowledge from class to actual cadavers." He enjoyed the chance to apply course curriculum outside of class.
Devin Lease thought the arthroscope (a tiny camera surgeons use for minimally invasive procedures) was a great example of technological advancements in medicine. He commented, "I was impressed with the way they were able to manage the camera."
The surgeons from Beacon Orthopaedics that volunteered with the class helped demystify the entire process for students, even encouraging questions and interactions.  The students felt very much at ease, and it seemed like everyone had a great experience in the lab.
DeAsia Morris, of Lincoln Heights, was able to quickly conquer her anxiety "because it was hands on." While somewhat hesitant at first, she ended up learning and experiencing a lot.
The Princeton High School visit was part of the educational outreach that Beacon Orthopaedics Research and Education Foundation does, which includes volunteering with over two dozen area high schools. Princeton's lab on March 23rd combined Beacon's  lecture & wet-lab series with the arthroscopy workshop. The lecture and lab series provides students with the opportunity to participate in a cadaver dissection under the direction and supervision of board certified and fellowship-trained surgeons.
To read the full story as written by Kelly McBride and published on Cincinnati.com, please click here.
+