Overcoming Multiple Injuries
August 6, 2019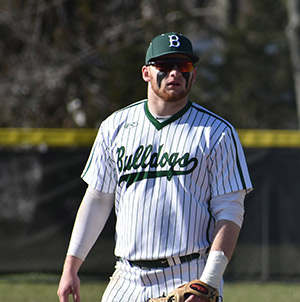 How Beacon Helped Kaleb Moell Get Back in The Game
Athletes battle injuries all the time. From sprained ankles to broken arms, being an athlete means constantly putting yourself at risk. Even when athletes appear healthy and take care of their bodies, accidents happen all the time that take them out of the game. Very few get through their careers (be it high school, collegiate, or professional) without an injury. Kaleb Moell, a recent graduate of Batavia High School, knows this all too well.
Kaleb has always been athletically gifted. Throughout high school he played three sports: football, basketball, and baseball. While he enjoys all three, football was always his favorite. There has never been a doubt in his mind that he wants to play for as long as possible and playing college football has been a dream of his since he was young.
Kaleb's freshman year of high school was rocked when he had his first injury. He dislocated and fractured his elbow during a football game and immediately went to the emergency room. Dr. Mohab Foad, a Beacon Orthopaedics & Sports Medicine surgeon who specializes in the treatment of hand and upper extremity disorders as well as reconstructive microsurgery, was there to help.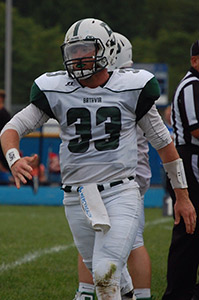 Dislocated and Fractured Elbow
A dislocated and fractured elbow usually happens through a fall in which the elbow is fully extended. While something like tripping and falling is the most common reason for this injury, blunt force trauma (like a car accident) can cause the same.
After Dr. Foad met Kaleb and his mother in the ER, he was able to determine the fracture and decide on a treatment plan. Because of the severity of the dislocation and fracture, surgery was determined to be the best option. Beacon doctors always use surgery as a last resort when no other treatment option is available or as effective. For Kaleb's injury, surgery was necessary to repair the damage. The surgery went well, and after the recovery process, he was able to go back to playing the sports he loved.
Almost exactly one year later, Kaleb was struck again with not one, but two simultaneous injuries. During his sophomore year, an accident during another football game led to another visit to Beacon. His mother, Ashly, immediately called Dr. Glen McClung, a Beacon physician who specializes in sports medicine and orthopaedic surgery. They were able to go in and see him the next morning during his clinic hours, and it was determined that he had torn his MCL (medial collateral ligament) as well as the ulnar collateral ligament in his thumb.
MCL Tear
MCL tears are fairly common among athletes, especially those who play contact sports like football. This ligament runs up the inner edge of the knee and helps to connect the shin and thigh bones to keep the knee stable and working properly. The injury is accompanied by a lot of pain, as well as swelling and a feeling of unstableness as the knee is able to bend in ways it shouldn't. Some MCL tears can heal on their own with rest and physical therapy, but the more severe tears require surgery to heal properly.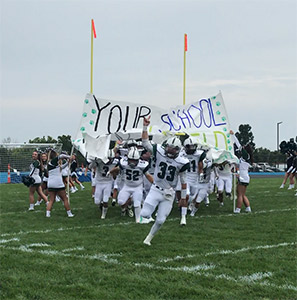 Thumb Ulnar Collateral Ligament Tear (Sprained Thumb)
A thumb ulnar collateral ligament tear is also known as a sprained thumb. This injury can be very painful and makes the thumb feel very unstable. Mild and moderate strains can be treated at home with the help of a doctor (the thumb is immobilized with a cast or splint and kept on until the doctor says otherwise). Severe tears are treated through surgery.
Both of Kaleb's injuries required surgery to heal properly. Rather than go under general anesthesia two separate times, Dr. McClung suggested they do both surgeries at once. They brought Dr. Foad in to do the ulnar collateral ligament repair, and Dr. McClung repaired the MCL. Again, the surgeries were successful, and Kaleb began the recovery process.
His second round of injuries, in particular the MCL tear, required more time to recover before he could begin playing sports again. He couldn't complete the rest of the football season and remained out of commission for the rest of the school year. Rather than allow this to set him back, he dedicated his sophomore year to his academics. Not being able to play the sport he loves only made him appreciate it even more than he already did.
After Kaleb's second recovery, he went back to playing football and was healthy for his final two years of high school. He even went on to break a school record and will be playing football for the University of Mount Union in the fall.
To learn more about Dr. McClung or Dr. Foad, as well as other Beacon services, please contact Beacon Orthopaedics & Sports Medicine at 513-354-3700.
+