March Madness is On! We Share Our Picks PLUS 5 Common Basketball Injuries
March 18, 2021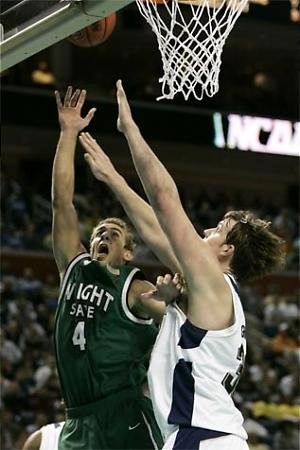 Our own Dr. Burleson has spent time on the court during the NCAA Division I Tournament. In this blog post, he shares his picks along with common basketball injuries.
While March Madness is a bit of a bust for Cincinnati fans this year, we're still rooting on our favorite teams and hometown athletes playing in this year's tournament. Our resident basketball expert, Dr. Drew Burleson, weigh in with his Final Four picks as well as common injuries basketball players experience out on the court.
Dr. Burleson Shares His Final Four Picks
Burleson_NCAATourney_PreferredPictureAs a four-year starting forward for Wright State University, a three-time captain and having earned a bid to the NCAA Tournament in 2007, Dr. Burleson has some pretty strong street cred when it comes to his Final Four picks; however, his bracket comes with a disclaimer.
"I have Gonzaga, Florida State, Baylor and Illinois going to the Final Four with Gonzaga winning it. You should know, though, I don't think I've ever won a bracket."
Besides, it's about more than winning and losing for Dr. Burleson — especially when it comes to this year's tournament.
"This time of year always has a special place in my heart and was one of the best experiences of my life. For these athletes, playing in March Madness has been their dream since they were kids. It was heartbreaking for the ones who didn't get to play last year after working so hard. That's what makes this year such a momentous one for every team — win or lose."
The 5 Most Common Basketball Injuries
Through his experience on the court, Dr. Burleson is well-acquainted with the highs and lows of March Madness — and from his perspective as an orthopaedist, that includes injuries. The following includes the most common ones we see with our basketball patients.
Ankle sprains and muscle strains
Jammed fingers
Knee injuries
Facial cuts
Foot fractures
"We typically see muscle strains and ankle sprains with basketball injuries. Big injuries, like ACL tears, are far less common," said Dr. Burleson. "Prevention is key. For athletes who are early in their season and for our weekend warriors, I just caution them to be prepared and in shape before getting out on the court. People get into things too quickly because they're excited, and that's when they run into trouble."
Orthopaedic Specialists are Here for Athletes
If your athlete at home has an injury or is experiencing unexplained pain, our Beacon specialists can help. Schedule an appointment to find out more about how we can get them back to playing the sport they love. Same-day appointments are available. As always, we have your safety in mind when it comes to the latest in COVID-19 practices. Take a look at our latest guidelines.
+