Cincinnati Reds – Kremchek reflects on time as Reds' doctor with transition to new role
March 28, 2023
By Brendan Hader
When you work somewhere for more than 25 years, no matter the line of work, you probably have an abundance of memories and stories to share. This is especially true when you work as the team doctor for a Major League Baseball organization.
Dr. Timothy Kremchek, founding partner of Beacon Orthopaedics & Sports Medicine, was appointed as the Reds' team physician in 1996. And since that time, he has happily served as the medical director and chief orthopedic surgeon for the Reds.
Just as the Reds are synonymous with Cincinnati, Kremchek has always envisioned Beacon the same way. It's a homegrown company with homegrown people. And while it serves athletes of all ages and sports, it was always built with the Reds in mind.
"I wanted a place to take care of the Reds and other professional athletes, not even in just baseball. That's exactly what Beacon has been," Kremchek said. "We are still the go-to place across Major League Baseball because of the culture and program we've built. My job is to continue maintaining this culture and be the place to go for athletes in all sports.
"I formed Beacon Orthopaedics in 1996, and that is a full-time job. But being part of the Reds is a passion, it has always felt like a hobby for me. And it still is."
Kremchek is excited for Dr. Andrew Razzano, who has followed in his footsteps for the last four seasons, to step into the day-to-day role of team orthopedic doctor in 2023 while Kremchek remains an orthopedic consultant to the team.
"This has been quite a journey," Kremchek said. "I've operated on guys like Scott Rolen, who will be going into the Hall of Fame this year. Hall of Famers Ken Griffey Jr. and Barry Larkin. Future Hall of Famers, like Joey Votto. Members of the Great Eight, who were my heroes growing up. I always wanted to meet Johnny Bench, Pete Rose, Joe Morgan, Griffey Sr., [Dave] Concepcion, [George] Foster, and I operated on all those guys. I just wanted a glimpse of them back then, and now they come into my office and I consider them good friends."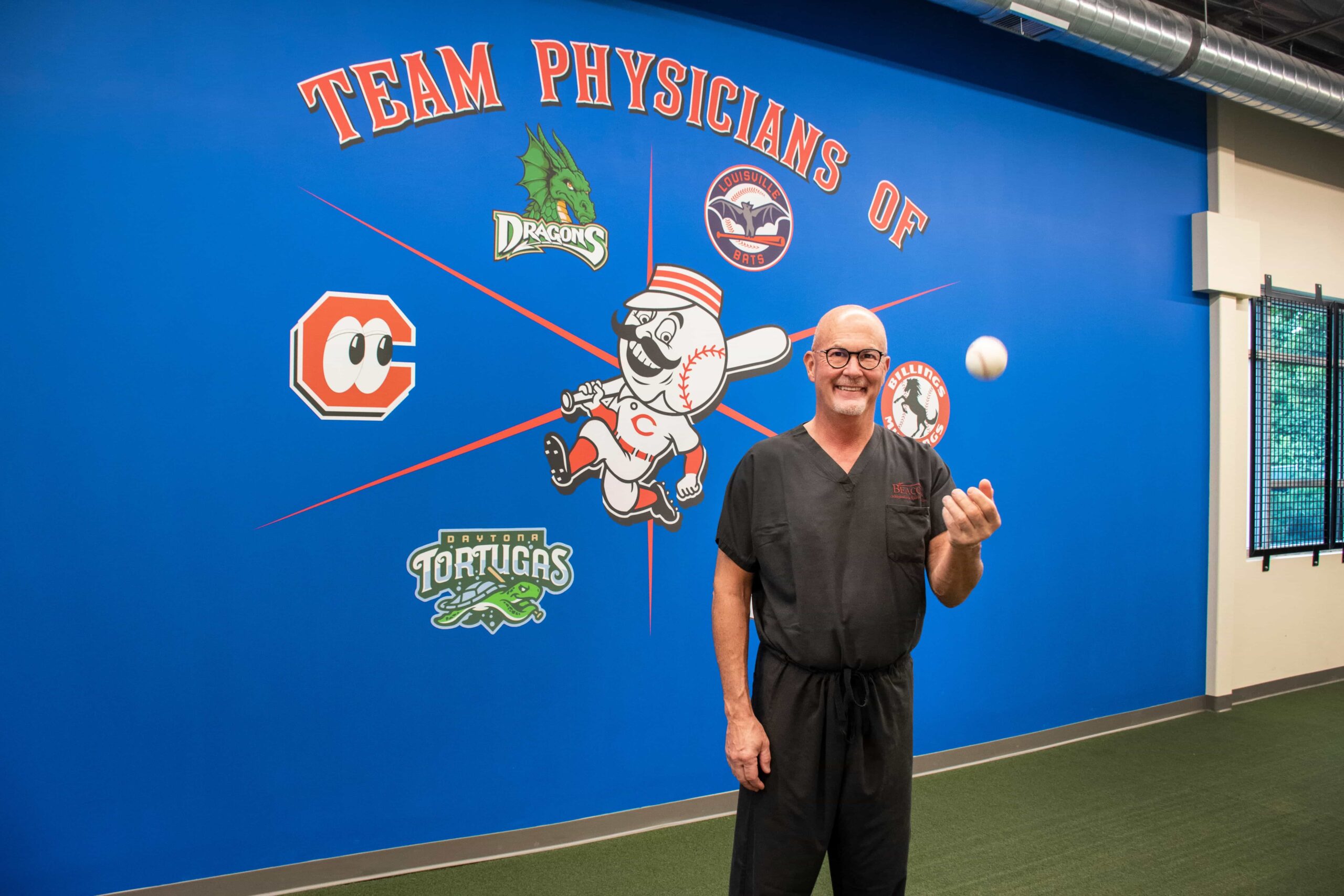 That journey started when Kremchek and his family moved to Cincinnati in 1968, and his dad took him to a Reds game at Crosley Field during their first day in their new city. From that day forward, Kremchek was an avid Reds fan.
He played baseball from his childhood up through his time at Wittenberg University, with the dream like so many others of playing for the Reds. When he realized that wasn't in the cards, he shifted his sights squarely on becoming an orthopedic surgeon like his father, knowing that career path provided another avenue that could allow him to stay in sports medicine and potentially one day become the Reds' team doctor.
After graduating from the University of Cincinnati College of Medicine in 1986 and then completing the Tufts University program, he spent an extra year of training with Dr. James Andrews in Birmingham, Ala. Andrews was the guy when it came to taking care of baseball players. Kremchek flipped this opportunity into his first job — medical director for the Cincinnati Cyclones.
Prior to the 1996 baseball season, Reds pitcher Jeff Brantley suffered a foot injury. One of the Cyclones players, Paul Lawless, had a similar foot injury around this time, so Reds general manager Jim Bowden called to find out who had treated Lawless. This led to Kremchek operating on Brantley, who would go on to win the Rolaids Relief Man of the Year Award and set the team's single-season saves record that same year. By the end of 1996, Kremchek was hired on as the Reds' team physician.
"What I told them, in terms of my intended coverage of the team, my plan to develop a sports medicine program, and how to put more focus on the Minor Leagues, it was unheard of at the time," Kremchek said. "And I'm really proud of that.
"I'll never forget convincing Jim that 'I'll come to every game,' and Jim said he didn't believe me. So, I said, 'You give me a one-year try.' And for the first probably 22 or 23 years, I was at virtually every home game. I also went on three or four road trips a year and was in Spring Training for a total of three or four weeks a year. I really engulfed myself. I probably covered over 2,200 Reds baseball games."
Imagine being just 34 years old and walking into a big league clubhouse full of star athletes in the national spotlight whom you're assuming the responsibility of caring for. That was the case with Kremchek as he appeared in the Spring Training clubhouse for the first time in Plant City, Fla. There stood players like 1995 National League MVP Larkin, Reggie Sanders, Deion Sanders and so on. You wouldn't be human if you weren't intimidated or felt some pressure.
"I walked in and all the players were standing around and Jim Bowden was speaking," Kremchek recalled. "Barry Larkin walked across the room, shook my hand, gave me a hug and said in front of everybody, 'I'm glad you're here.' And at that moment I knew I was in the right place. I knew that this was something that I could do."
The players accepted Kremchek and put their trust in him right away — trust he continued to build and maintain during the course of those 2,200-plus games, working under seven general managers and three owners. In that time, he operated on more than 700 players at the Major and Minor League levels.
With completing so many successful surgeries and operations on professional ballplayers that helped them continue and improve their careers, it's no surprise that Doc has acquired countless memorabilia over the years. From jerseys and gloves to helmets, baseballs and so much more, he has a couple mini museums between his Beacon offices and his home.
In 2004, Griffey Jr. suffered a devastating hamstring injury, as his tendon was pulled completely off the bone. Kremchek had never done that sort of procedure, but Griffey insisted that he be the one to operate on him. A year later, Junior won the NL Comeback Player of the Year Award, which led to one of Kremchek's most prized, and costly, pieces of memorabilia.
"Griffey had a group­ of pictures from when he was with Seattle of him catching a ball over the wall and throwing the guy out at home against Detroit," Kremchek said. "And it was a series of seven large pictures. He called the guy from Sports Illustrated, got them blown up and sent them to me. And the last one he signed, 'The only other guy that could have done this wears a cape,' meaning Superman. I laugh about it because he sent me these giant pictures that are in my office, but it cost me $7,000 to frame it. Thanks for the pictures, but it cost me seven grand!"
The trust gained from these types of critical procedures on high-profile players translated into genuine relationships, making Kremchek feel like part of the team. And as part of the team, that meant getting treated like one of the guys. Kremchek has enough stories from his years spent in a Major League clubhouse to write a book that could rival the length of a Harry Potter novel. (Don't worry, players and coaches, he won't.)
One story that he still remembers involved a wardrobe malfunction. Kremchek' s routine on a game day was to go down to the ballpark, check on the players and then get a workout in once the game started. Some of the players seized the opportunity to pull a fast one on him.
"I'll never forget one time I'm working out at Riverfront and suddenly Pete Harnisch screams, 'Doc, Larkin's down!'" he recounted. "So, I run back to get my clothes on, and they had cut my underwear in half. Then I put my tie on and it broke, and they were all sitting behind the wall watching and laughing because they knew I had to run out and help the guy. But if you don't like somebody and don't trust somebody, you don't do things like that. It was all in good fun."
He also recalled the day he raced Deion Sanders to home plate after dishing out some friendly trash talk to "Primetime." Even with Kremchek getting a head start at second base, Sanders rounded the bases and reached home first.
"He flashed that million-dollar smile and just said, 'I got you, Hollywood.'" Kremchek said.
Hollywood refers to Doc's nickname bestowed upon him by the one and only Marty Brennaman. When Kremchek first started as team doctor, he often appeared on TV and radio with injury reports on the players, thus he became well known around the city. One day, the Hall of Fame broadcaster walked by Kremchek and told him, "You're Doc Hollywood."
"Well, for 25 years, I have been Doc Hollywood," Kremchek laughed. "People all over call me Doc Hollywood."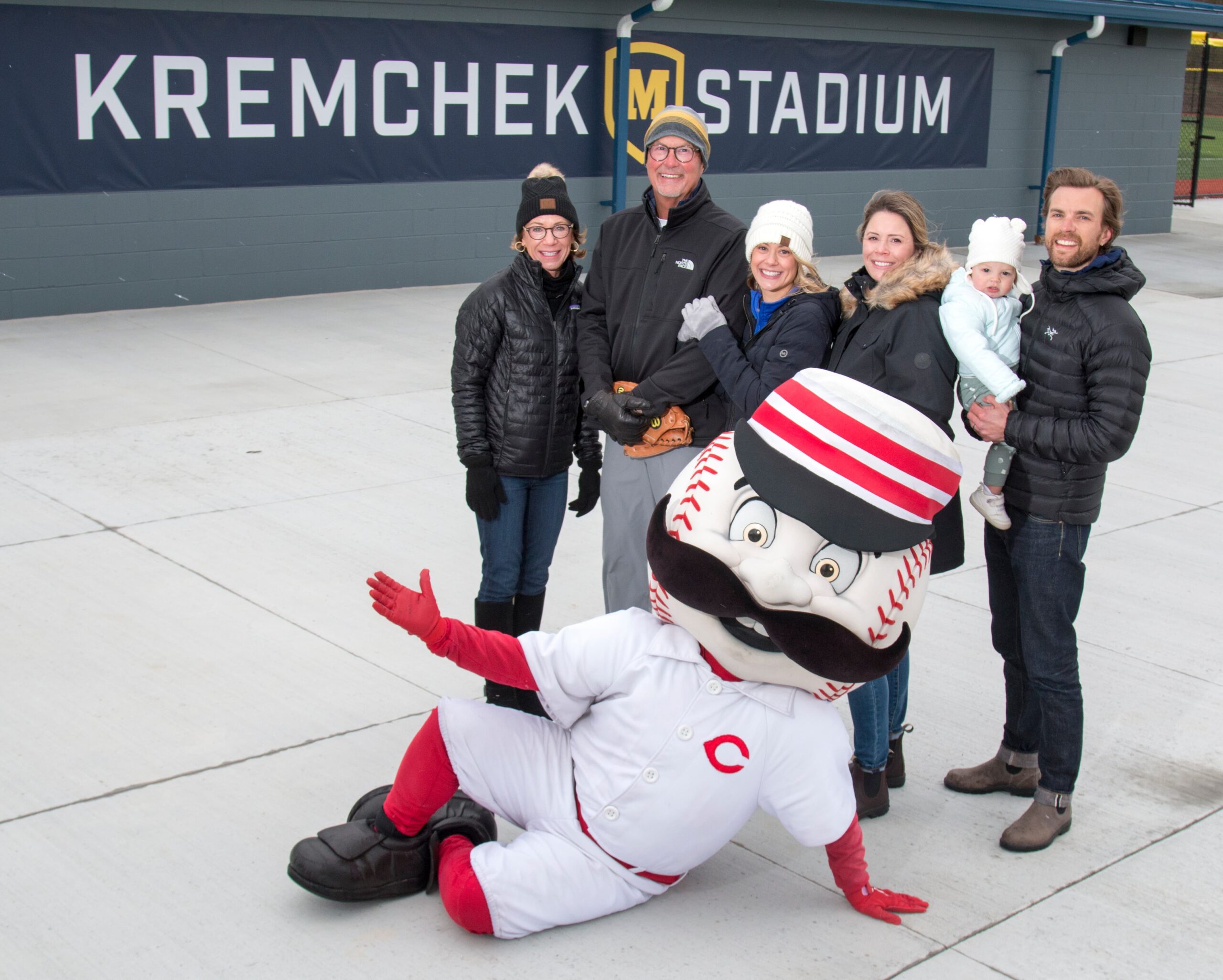 But if you look at his day-to-day, it's anything but a Hollywood tale. Contrary to popular belief, a team doctor doesn't just show up for a game, hang out in case an injury occurs, and then go home. Especially when that doctor already has a day job.
"What people don't realize is that I would get up at 5:30 in the morning to go to work at Beacon until about 6 p.m.," he said. "Then I would drive to the stadium for a 7:10 game. I'd see the players before the game, stay for the game until between 10 and 11, go home, get up and do it all over again. My day job was to see patients and be an orthopedic surgeon. My hobby and second job was taking care of the Reds.
"We're talking about 16-to-18-hour days, sometimes two-week homestands. That can take it out of you, and there's not a lot of time for yourself or your family. Plus, the constant phone calls, the Minor Leaguers that get hurt, Spring Training in Florida or Arizona. A lot of people just think I'm the Reds doctor who sits behind home plate and watches the game while not realizing what happens behind the scenes. Watching the game just happens to be part of the fun — unless somebody gets hurt."
All that time away from home meant making sacrifices in his personal life. But Kremchek credits his wife Hilary and his five kids for being supportive from day one.
"It's tough when I'm working all day, come home for 10 minutes, head right to the ballpark and don't see my wife until the next night, if I even get to do that," he said. "She was extremely supportive. And my four daughters, I tried not to miss many of their things growing up.
"Most of the players knew my son, Teddy, growing up, because he came to the game with me virtually every night. He became friends with a lot of the guys and stays in touch with many of them.
"I tried to include [my family] in Spring Training and going to games together, making the entire family part of the Reds whenever I could. So, Cincinnati Reds baseball has been not only part of my professional career, but a part of my whole life and my family's life too."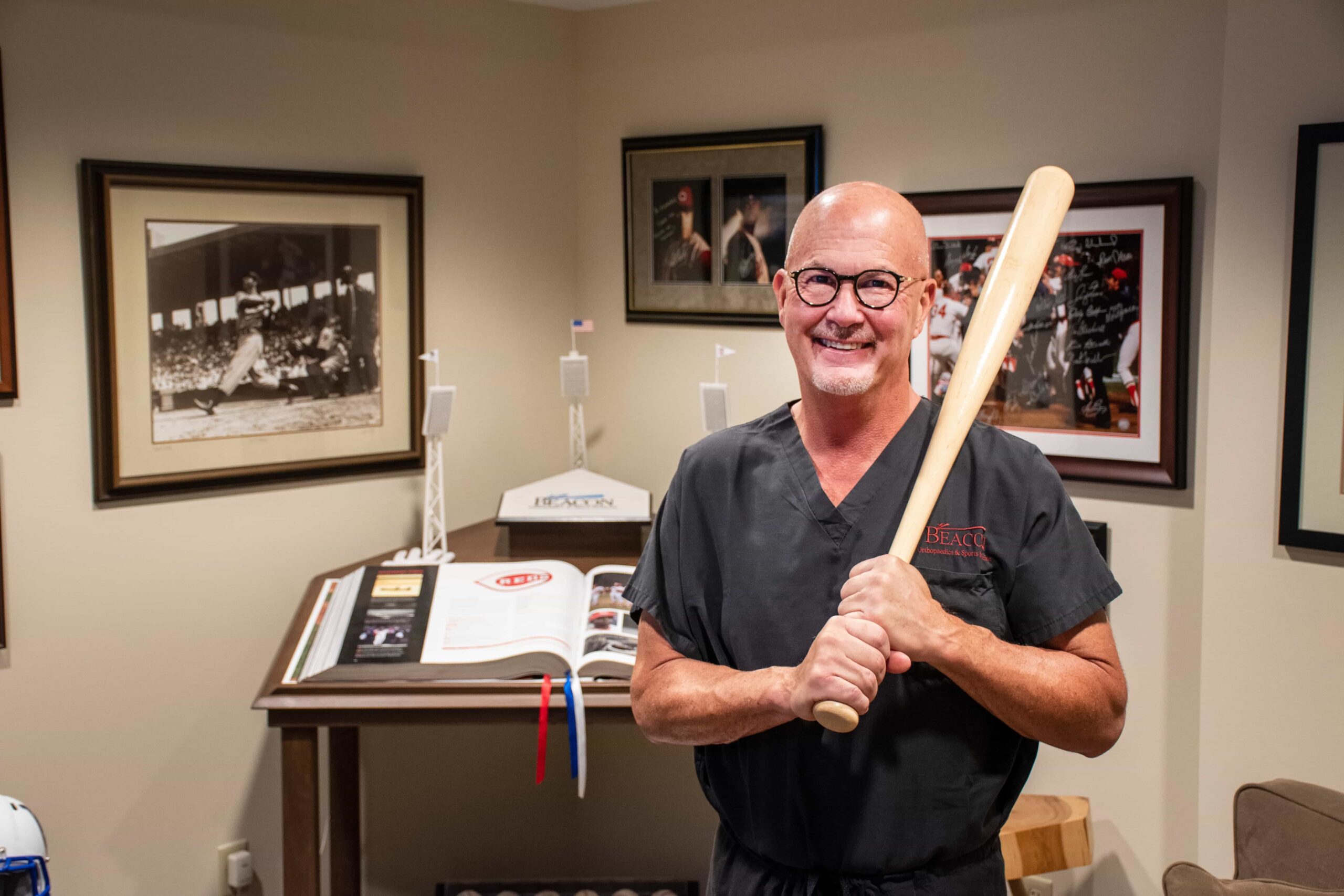 Kremchek has invested so much of his life into Reds baseball, making the reality of this transition out of the day-to-day schedule very emotional. While he'll still work with players, he'll miss having those daily interactions with them, the coaches and clubhouse staff.
But the bonds he has formed will remain strong. And one of the most important ones he has formed is with Reds CEO Bob Castellini.
"One of the joys that I have right now is going up virtually every night and sitting with Mr. Castellini," Kremchek said. "Over the last few years, hanging with him and seeing his passion for the game, the city and the team is inspiring. We sit up there and talk about baseball strategy, and it's intense, but also an awful lot of fun. He has such an overwhelming desire to win. He's become a mentor and a great friend. Staying involved and working for him is very rewarding."
Though he's not separating entirely, it's still a significant change to step back in any capacity after being completed entrenched in everything Reds and building a legacy for over a quarter of a century.
That legacy is defined by many different things, the crux of which is simply providing the best possible care for athletes. In the current landscape, where health decisions are influenced by money, agents, NIL (name/image/likeness deals) and so many other factors, the risk has grown when it comes to treating athletes. But Kremchek and Beacon remained committed to providing a first-class service for all athletes, even if it's no longer the popular thing to do.
"We don't care about money or fame," Kremchek said. "We care about the players and about our city. Players trust us and want to continue working with us, so we'll always be here for them."
And when it comes to carrying on and sustaining that legacy Kremchek worked so hard to establish, he has full confidence in Dr. Razzano and is looking forward to showing him the ropes and guiding him along the way.
"Dr. Razzano was one of my fellows. He did his orthopedic training and spent a year with me," Kremchek said. "Then we brought him back to Cincinnati and have been kind of grooming him for the position. I think he's watched what I've done, and I think he's ready for it. But I'm going to work with him and help teach him things over the next few years. I want to be sure the medical program goes on and we continue to make it better and better. I still want our medical program to be the talk of the league, the one players from other teams come to because they trust us. That's really important to me."
Reds vice president and general manager Nick Krall worked extensively with Kremchek for over 20 years. He has seen firsthand the difference he has made on the team's medical program.
"Under his leadership, the health and performance side has expanded tremendously over the last 10-20 years," Krall said. "He brought in our strength program, revamped our training room, helped hire our dietician, has helped with our Draft medicals, sees players at his facilities, comes out for Spring Training.
"There's a lot more than being here for 81 games. The day to day is his own practice first and foremost, and then being team physician on top of that is a lot. I would talk to him two or three times a week during the season or in the offseason with medical reviews of our Draft players, international signees or free agents. He has done a lot and set up our system into what it is today.
"Our goal is to put the healthiest team on the field and make sure we prevent injuries, and if someone does get injured, we give them the best care. And I feel we've given our players the best care over the last 20-plus years, thanks to Doc."
With all the blood, sweat and tears he has poured into the Reds organization for so long, it's easy to understand why he wants to remain involved. Not to mention, he's a fan just like the rest of Reds Country. And more than anything, he wants to be here when the team wins.
"For 26 years, not only did I watch when they were at home, I'd watch virtually every game on the road," he said. "And I still watch them. That's why I don't want to totally give it up, it's too much a part of my life. That's over a quarter century of my life, and I can't just turn my back on that. I don't want to.
"I did this and continue to do this because I love baseball and I love the Reds. This has been like a dream come true."
+