Our Physicians
Peter Cha, M.D.
Thank you for helping me with my most recent injury of the adductor muscle and thigh. You have provided wonderful care to me in 11 years- starting with a toe fracture. I appreciate very much your kindness, patience, thorough explanations and care for my health. I hope you can enjoy the autumn season.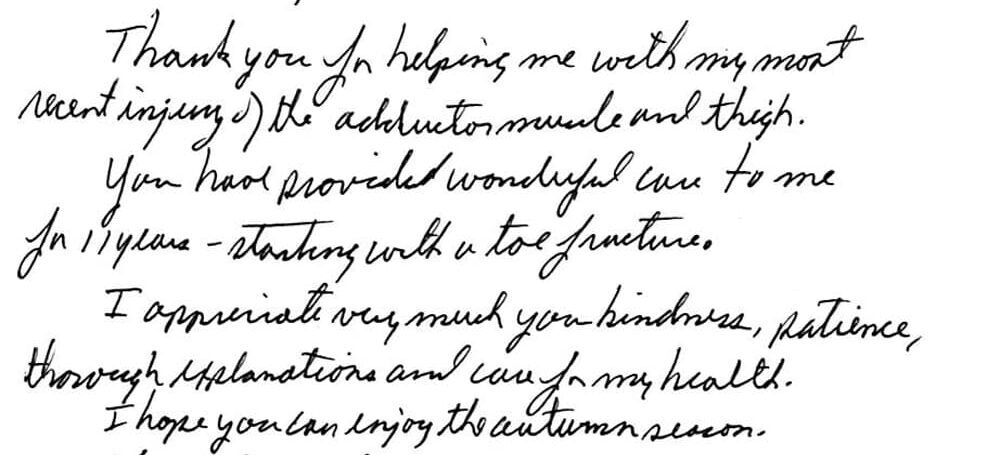 -
Dear Dr. Cha,
I am writing this to thank you for changing my life. When I wrecked my rotator cuff five years ago, I figured that I'd just have to live with it. But it got to the point where not only athletic pursuits were not possible, but just using my right arm to reach into the cupboard was painful.
I thank the Lord that I made the decision to come to Beacon and investigate surgical repair. I'm also thankful that I picked you. It's been 6 months and my shoulder is feeling better than it has in five years. I'm slowly regaining strength through gym workouts. I'm going to be out-driving the hacks that have been outdriving me during golf rounds very soon. You also gave me good advice in not doing any exercises in which I cannot see my hands.
Your skills and the way that you work with patients, despite a clearly extremely busy schedule, have changed my life and I am so very thankful for the changes that have resulted in my shoulder.
-Former Patient
Dear Dr. Cha,
I wanted to express my appreciation for the time and energy you have invested in getting me back to playing basketball. The first time I had surgery, it took me 12 months to return to my sport but with you, you promised to get me back in 6 months and you kept that promise. I'm back playing fully and doing what I love and I can't thank you enough. Even though I was jus another patient, you still treated me with great care and did your best to get me back and playing. I knew that I was fully back and playing how I wanted to be when in my second game after surgery, I went 5-7 with 15 points and got 3 steals to go along with it. I couldn't of done that without not only being physically prepared but also mentally prepared and you allowed me to be both. At the end of the day, I can't express how truly grateful and thankful I am for what you have done for me.
Sincerely,
Jacob T.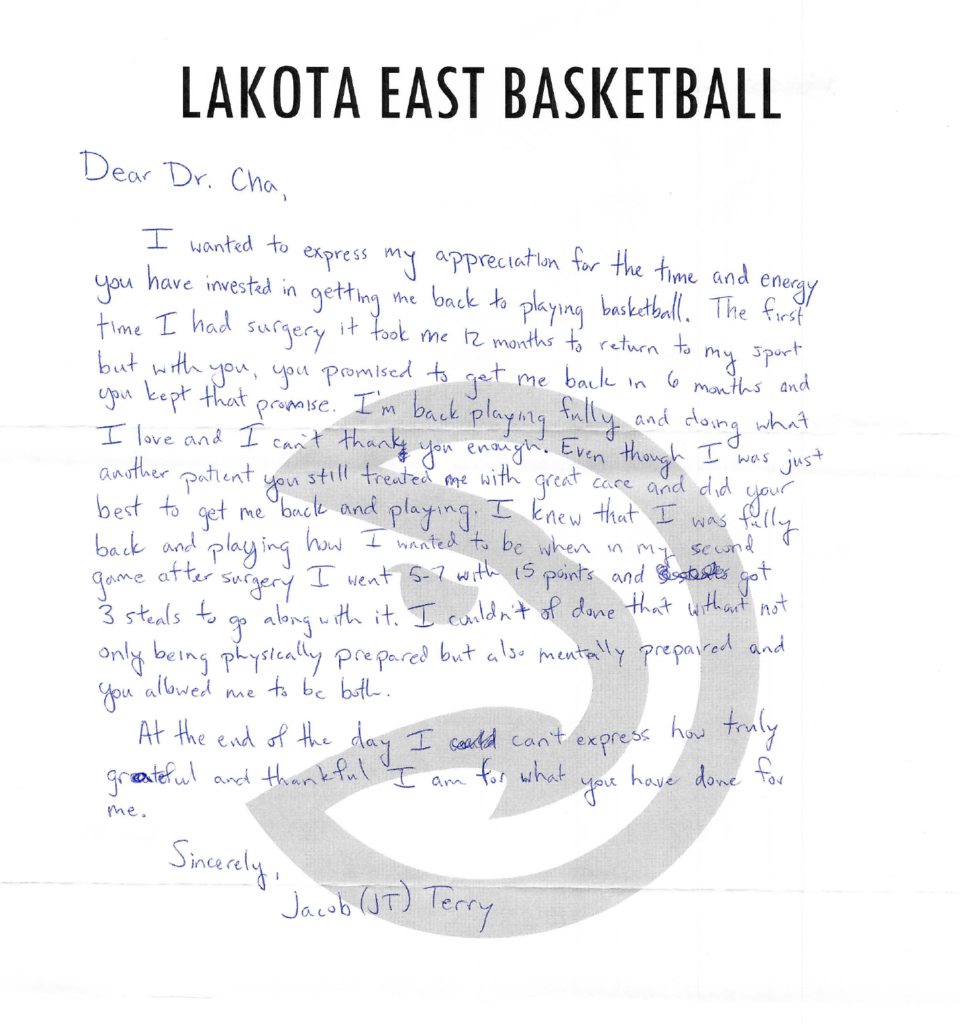 -Jacob T.
Dr. Peter Cha is excellent. I'm one year post on my second shoulder surgery and have full range of motion again after eight years! I'm excited to get back to all the activities I love.
-Antoinette M.
Dr. Peter Cha took the time to listen to me when I came to him with my knee problems, which was not the case with my previous orthopedic doctor. I cannot say enough good things about him or their Physical Therapy department.
-Lisa B.
A couple of years ago I sustained a high impact both bone forearm fracture while out riding my BMX bike in Centerville Ohio. It was the first day of my vacation, and I was excited to go out and ride some rather large dirt jumps back in the woods. This particular set of jumps are lined up in a row varying in size and distance. Since it was earlier in the morning, the jumps were a little soft. This made it difficult to get through all of them. I got through about 4 of them, hit a soft spot in the 5th jump, which kicked me into a 90 degree position 20 feet in the air. Time seemed to slow down as I braced for impact. I went to sit up, and realized my forearm was broken in half with both bones sticking out. My hand was rotated completely backwards. The impact was so hard and fast, I didn't even know I had broken it. I actually pulled both bones out of the ground leaving two holes in the dirt. I ended up using my shirt as a tourniquet and a magazine for a splint. Once stabilized, my friends rushed me to Good Samaritan Hospital.
On the drive to the hospital, I called Beacon Orthopaedics and Sports Medicine. The physician on call was Dr. Peter Cha. I spoke to Dr. Cha before I went into surgery. He was very concerned regarding the nature of the fracture. He then explained his plan to fix the fracture, and that I would be in the hospital for a couple of days due to the fact that the bones had come through the skin. He answered all of my questions before I went in, and my family felt confident in his decision. I then spent an all inclusive four day and four night vacation in the hospital. I ended up having two surgeries. One to fix the three fractures, and one to close the wound after being hooked up to a wound vac which prevents infection. Dr. Cha explained that there was so much swelling, it would be difficult to close the two very large wounds. He spent an extra amount of time extracting all of the dirt that was impacted deeply within both forearm bones. He stated that it took him over an hour to dig out the dirt with a dental pick. Dr. Cha communicated to my wife often as the surgery took a little longer than expected. My wife was very thankful, as she was more upset about my arm than I.
After my stay at the hospital, I was instructed to follow up with Dr. Cha in a few days. Dr. Cha called me that night to make sure I was okay, and that my pain was tolerable. This was very comforting for me and my wife. I continued my follow up visits as scheduled, and have had great success. I was able to get back full range of motion in my wrist and forearm, and only have pain when it gets cold. At three months post surgery, I was given the okay to ride. I have been riding competitively since. I am extremely appreciative for the work that Dr. Cha performed on my arm. His attention to detail, and dedication to his patients truly show me that patients come first at Beacon Orthopaedics. In the end, Dr. Cha got me back to what I love, live and breath everyday.
Thank you Dr. Cha!
-Shain
Highly recommended…if it's pain or worst case, surgery, that you need Dr. Cha & his team at Beacon are the people to see. They will listen to you and try to work with you eliminate all of your issues.
Take care & God bless.
-Tim L. via Google
Love Dr. Cha!! He is nice and very knowledgeable!! He took time with me and listened when I was very upset about a knee injury. I will always go to him if I ever need to be seen for a sports or orthopedic injury!
-Shalee O. via Google
I have nothing but good things to say about this place. They are all just so professional as well as friendly. The doctors are the best ever.
-Patty K. via Google
I have been a patient of Dr. Cha for many years. He has always put my best interest first. I've had several sport injuries over the many years including a severe work injury to my right shoulder. I had several doctor opinions. He was the only doctor that didn't want to operate on me. His staff is first class. All my coworkers and friends think the same. Best choice I have ever made. He got me back to work and supporting my family. My family is in a better place because of Dr. Cha and his staff!
-Nick C. via Google
Dr Cha is not only a great physician he is a top shelf person! I highly recommend Dr. Cha! He delivers high-quality work with a Great bedside manner and a great smile!
-Joe L. via Google
Dr. Cha is phenomenal…. His attention to detail, customization of the surgery, working directly with the PT staff and the patients. He repaired my botched ACL and meniscus tear, and he repaired my daughters ACL blowout her senior year of volleyball. There's no one better. Highly recommend Dr. Cha at Beacon Orthopaedics!
-Meredith B. via Google