Dr. Robert Burger Named "Top Doc" by Cincinnati Magazine
February 3, 2011
Congratulations to Dr. Robert Burger for being named a 2011 Top Doctor by Cincinnati Magazine for the fifth consecutive year! For the full list, please visit Cincinnati Magazine's website by clicking here.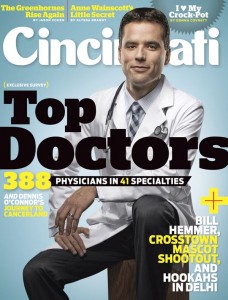 The methodology behind the rankings takes more into account than doctors with high patient satisfaction rates. In fast, Cincinnati Magazine reaches out to over 5,000 doctors—both M.D.s and D.O.s—to find out which physicians in their field they would recommend for the care of a "family member, or a friend in need of medical attention." The results this year: 388 physicians spanning 41 specialties. In order to qualify to make the list, doctors had to received a minimum of six votes from their peers.
Dr. Burger is one of the founding partners of Beacon Orthopaedics and Sports Medicine. He also has the distinction of serving as the Section Head of Orthopaedic Surgery at Good Samaritan Hospital since 2005.  But his ties to Cincinnati go back even further.
As a native from the area, being named a Top Doctor is truly an honor for Dr. Burger.  He graduated from LaSalle High School and went on to earn a Chemical Engineering degree from Notre Dame. After walking on to the Notre Dame football team his freshman year, Burger earned a full athletic scholarship and graduated magna cum laude.
He returned to his roots in 1981 and enrolled at the University of Cincinnati College of Medicine. Upon graduation, he completed a surgical internship and orthopedic residency before advancing to an orthopedic sports medicine fellowship at the Hughston Orthopaedic Clinic in Columbus, Georgia.
Currently, Dr. Burger is head team physician for Xavier University, as well as a team physicians and orthopedic consultant for the Cincinnati Reds MLB team, and College of Mount St. Joseph athletics. He also provides sports medicine care for the Cincinnati Steam baseball organization and is team physician for his alma mater LaSalle high school.
Not surprisingly, the impressive accolades for Dr. Burger are numerous: area physicians have voted him a "Top Doctor" five consecutive times, he has been recognized as the Ohio Outstanding Team Physician in both 2009 and 2010 by the Ohio Joint Advisory Commission on Sports Medicine.
+