Featured Physician – Dr. Cha
August 6, 2019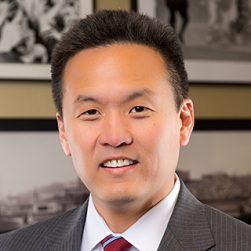 Dr. Peter Cha serves as the team physician of the Cincinnati Wolfhounds rugby team, medical director to numerous area high schools, as well as an orthopaedic consult for Xavier University athletics. Enjoy getting to know Dr. Cha below!
What is your specialty?
My specialty is sports medicine with a concentration in knee and shoulder arthroscopy and knee ligament construction.
What attracted you to your specialty?
The healthy patient population.
Do you have a favorite/most memorable case you've worked on? If so, can you describe that experience?
I love all positive outcomes! Every time someone leaves my office feeling healthier, I consider that a win.
What made you want to work at Beacon Orthopaedics?
The wonderful team and the multi-specialty approach. I love getting to work with a group of experts from all over the orthopaedic spectrum, I get to learn something new from my coworkers every day!
Do you have any advice for young people who want to be doctors when they grow up?
Determination and tenacity will get you far! When things get tough (either in med school, residency, or beyond), it's the people who work hard who will do better than those with raw talent and no work ethic.
Extra fun facts about Dr. Cha!
What is your signature dance move? Flossing!
If you could only eat one food for the rest of your life, what would it be? Anything Korean! I love Korean food.
What's your favorite comfort food? Pretty much anything with carbs.
For more information about Dr. Cha, or any of our physicians, please visit our physicians page here!
+