Dr. Koo – Hand & Finger Joint Replacement
Sam B. H. Koo, M.D.
Sam B. H. Koo, M.D., joined Beacon Orthopaedics and Sports Medicine in August of 2013 after relocating from Macon, Georgia. Although relocated, Dr. Koo is no stranger to the tristate area. In 2011 he completed a fellowship in Hand and Upper Extremity Surgery at the Indiana Hand to Shoulder Center in Indianapolis.His current focus is the comprehensive treatment of the upper extremity including fractures, tendonitis, arthritis, and nerve and tendon injuries from the shoulder to the fingers. Dr. Koo looks for complete treatment of bone and soft tissue injuries or disorders and reconstructive microsurgery within the hand, wrist, and upper extremity region. Whether treating the simplest or most complex of conditions, he seeks to understand each individual patient's needs before recommending a treatment path.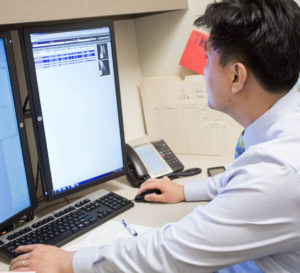 Dr. Sam Koo and his team strive to put patients at ease with their warm, caring bedside manner.  In today's fast-paced world, it is important to develop relationships with each patient and family, prior to making treatment recommendations and presenting options. Both non-surgical and surgical options (if applicable) are presented, and Dr. Koo does his best to explain the value and effectiveness of each approach.Dr. Koo is a board certified Orthopaedic Surgeon who completed his fellowship training at the nationally acclaimed Indiana Hand to Shoulder Institute in Indianapolis, focusing on hand and microvascular surgery. He aims to restore function to the extremity, enabling patients to get back to the activities they enjoy most - whether a hobby or career that relies on the intricacies of dexterity and fluid movement. His ultimate objective is to guide patients to an improved quality of life, whether repairing an acute injury or managing a chronic condition.Dr. Koo places a high value on patient collaboration. It is this input and feedback that ensures patients make appropriate decisions regarding their care. Those who work alongside or have been under Dr. Koo's care notice his personable approach, in addition to his knowledge and presentation of treatment options.Dr. Sam Koo is locally connected to the tri-state area through his wife, Dr. Euna Koo. Growing up in West Chester, she graduated from Lakota High School, and currently practices dentistry in Kenwood. He and his wife are enjoying life with a toddler girl and another baby on the way.
+