First Patient Finds Great Orthopedic Care in Lawrenceburg!
June 26, 2014
Beacon Orthopaedics is now providing sports medicine and orthopedic care in Lawrenceburg, IN!  The new facility serving eastern Indiana just opened.  Dr. David Argo, Dr. Robert Rolf, and Dr. Sam Koo are offering state-of-the-art orthopedic care in Lawrenceburg.  Our objective is to provide excellent care to everyone in the tri-state area.  Bringing top notch facilities into the backyards of our patients is an important step in that process.  We don't expect residents near Lawrenceburg to drive all the way to Sharonville to receive great care.  With Beacon's Lawrenceburg location now fully operational, they don't have to!
Our first patient has been seen and treated!
He may not be a stranger to Beacon Orthopaedics, but Mark was happy to provide us with some feedback from his care:
"As one who has had the misfortune of requiring 13 surgeries over the course of my 58 years, I have dealt with many different physicians and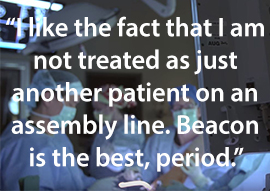 their respective medical facilities. My last 3 surgeries have been with Beacon Orthopaedics
and I can state with absolute certainty that I will never go anywhere else again.
I first came to Beacon because of Dr. Mohab Foad. He has been the most trusted, respected
and well liked physician I have ever had. Having experienced Beacon, I subsequently
decided to stay with the facility and saw Dr. Rolf for a knee problem that resulted in surgery
and still requires injections.
The quality of the physicians, their staffs and all Beacon
employees show the highest level of 
professionalism, efficiency and courtesy I
have ever
experienced.
There are so many locations to make it convenient to virtually all within the Greater Cincinnati area and each one is a comfortable and immaculate
environment. Also, I like the fact that I am not treated as just another patient on an assembly line. Beacon is the best, period.
Happy and proud to be a part of the Beacon family,"
-Mark
+