Featured Physician: Dr. Michael Planalp
September 30, 2019
Michael Planalp, M.D. is a board eligible Orthopaedic surgeon and fellowship trained spine surgeon. He is originally from Cincinnati, graduating from Wyoming High School before attending the University of Notre Dame. He subsequently studied medicine at the University of Cincinnati College of Medicine. He completed a residency in orthopaedic surgery at William Beaumont in Detroit and obtained fellowship certification at the Twin Cities Spine Center in Minneapolis, Minnesota.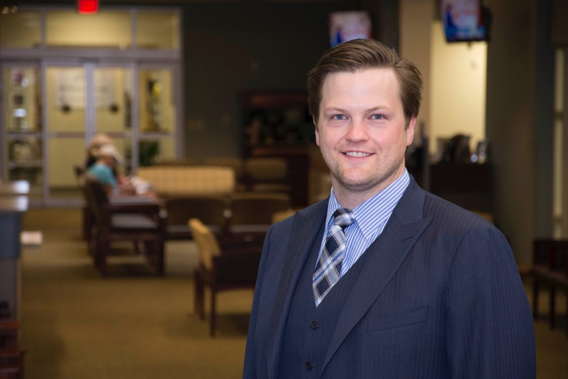 Michael and his wife Caitlin McCarthy, a local Obstetrician and Gynecologist, share many interests. They enjoy attending sporting events throughout the Cincinnati area, cooking together, and exploring much of what the tri-state area has to offer. Enjoy getting to know Dr. Planalp!
What is your specialty?
I specialize in orthopaedic surgery with a sub specialization in spine surgery.
What attracted you to your specialty?
I've always found anatomy to be very interesting, and I enjoy the challenge of helping people suffering from musculoskeletal problems.
Do you have a favorite/most memorable case you've worked on? If so, can you describe that experience?
I don't have a single case that stands out, but I love helping people and being able to see huge improvements in my patients both physically and emotionally after surgery.
What made you want to work at Beacon Orthopaedics?
I really enjoy the camaraderie and commitment to excellence of the physicians and staff. The people I work with make Beacon a world-class place to work and be treated.
Do you have any advice for young people who want to be doctors when they grow up?
My advice is to work hard, but never lose your compassion for your patients.
Fun Facts About Dr. Planalp
What is your signature dance move? The Planalp shuffle. Check out Beacon's social media (Facebook, Instagram, and Twitter) for a demonstration!
If you were a pair of shoes, what would you be? Casual leather sneakers, good in any situation.
If you could only eat one food for the rest of your life, what would it be? Pizza.
What's your favorite comfort food? Macaroni and cheese.
+