Beacon Orthopaedics Partners with Flyin' to the Hoop as Title Sponsor
September 20, 2022
Dayton, OH – Sept. 20, 2022 – One of the nation's elite prep sporting events is getting a new look.  Flyin' to the Hoop, a staple in the basketball world every January, is pleased to announce a partnership with Beacon Orthopaedics & Sports Medicine as the new Title Sponsor.  The Beacon Orthopaedics Flyin' to the Hoop Basketball Invitational will mark its 20th anniversary this January 13-16, 2023. It will again take place at the Trent Arena in Dayton, Ohio.
This new partnership not only helps to fund the event, but Beacon athletic trainers and medical professionals will also be on site throughout the weekend providing excellent medical direction and coverage to the student-athletes participating.
"We're extremely excited to be involved in this event as the official orthopaedic and sports medicine provider," said Beacon Orthopaedics Surgeon Dr. Drew Burleson. "For me, having played basketball locally at Wright State, and attending the Flyin' to the Hoop Invitational multiple times in the past as a fan, I'm proud to now be returning as the official medical provider."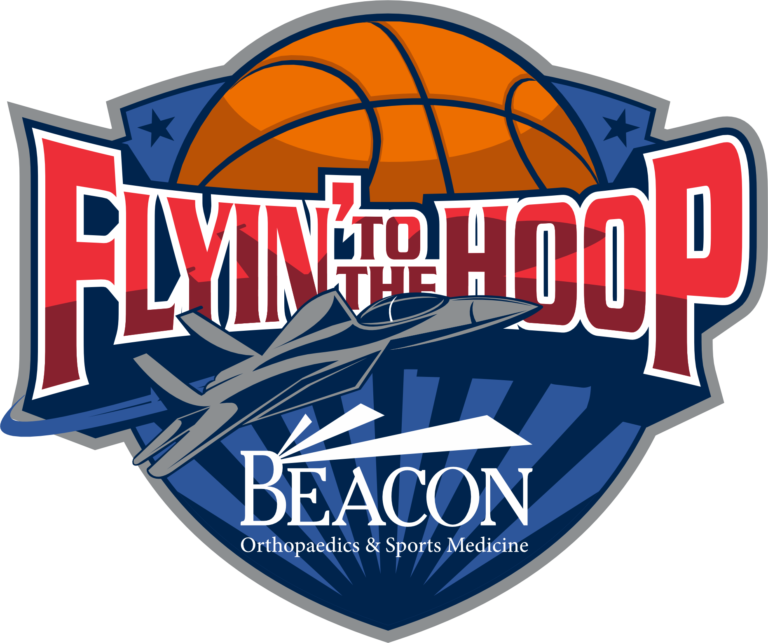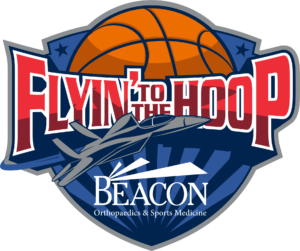 Since 2003, the Beacon Orthopaedics Flyin' to the Hoop Basketball Invitational has featured more than 92 players that have gone on to play in the NBA. The event is consistently ranked as one of the top national high school basketball events in the nation including the distinction of the #2 ranked national showcase per MaxPreps/CBS Sports. Each January over the MLK, Jr. holiday weekend, approximately 35-40 teams descend upon the Dayton area from all over the nation – including past international teams from Canada and Finland – playing in high-level matchups in front 200+ members of the media / college coaches and thousands of rabid basketball fans.
Eric Horstman, President and Founder of Flyin' to the Hoop had this to say: "I'm excited to start this new chapter with Beacon and their strong reputation in the sports medicine world. We plan to get creative in taking the event to even bigger heights as we continue to give local kids a chance to play on a national stage while drawing the basketball world's attention to the SW Ohio area every January."
"We are excited and proud to become the title sponsor for the Flyin' to the Hoop event," stated Beacon's CEO, Andy Blankemeyer. "Beacon's commitment to supporting and caring for high school athletes is built into the fabric of our organization. We are excited to work with Eric and the entire team to make the event an even bigger success for many years to come."
A Press Conference to release this year's schedule of games along with introducing the new partnership will be held on October 11th at 11 am.  Stay tuned for location and live-streaming info.  A .jpg of the new logo for use by the media is attached to this press release.
About Flyin' to the Hoop
The Flyin' to the Hoop Basketball Invitational (www.flyintothehoop.com) is a Top-Ranked National High School Basketball Event that pumps over $1.9M into the surrounding Dayton, OH communities annually. Founded in 2003, the event currently has over 92 alumni in the NBA, NFL or MLB that participated on the FTTH stage. The event is managed by Sports Image® (www.sportsimageinc.com) that was also founded by Eric Horstman in 2002 with the purpose of helping high schools and other grassroots organizations to obtain equipment and revenue for their athletic programs – as well as being an Event Management company. To date, Sports Image® has given over $1,500,000 in cash and over $15,000,000 in equipment to schools/organizations throughout the United States.
About Beacon Orthopaedics & Sports Medicine
Established in 1996, Beacon Orthopaedics & Sports Medicine has helped thousands of patients overcome injuries and improve their quality of life. Beacon Orthopaedics provides medical direction and coverage for over 30 local high schools, five college athletics programs, and professional teams including the Cincinnati Reds. With over 20 locations across Southwest Ohio, Northern Kentucky, and Southeastern Indiana, Beacon offers instant access to comprehensive orthopedic care, including sports medicine, physical therapy, athletic training, imaging services, regenerative medicine, as well as surgical procedures involving neck, spine, shoulder, elbow, hand, hip, knee, foot and ankle repair, reconstruction, and replacement. Beacon is the founding group of OrthoAlliance, a patient-centered, physician-led management services organization designed to help orthopaedic physicians grow and thrive in an evolving healthcare landscape. Since its founding OrthoAlliance has successfully grown into one of the leading platforms in the country.
+