Jayne Walker Honored in Inaugural Class of Women of Influence!
October 10, 2013
Venue Magazine has announced the inaugural class of what they are planning to make an annual event in the Tri State area. This new award honors Women of Influence in the Greater Cincinnati Area. Instead of pitting nominees against each other to compete for a single "Most Influential Woman" spot, the award seeks a broader scope of recognition. Recipients must demonstrate areas of positive and ongoing influence in their professions and areas of service and volunteerism.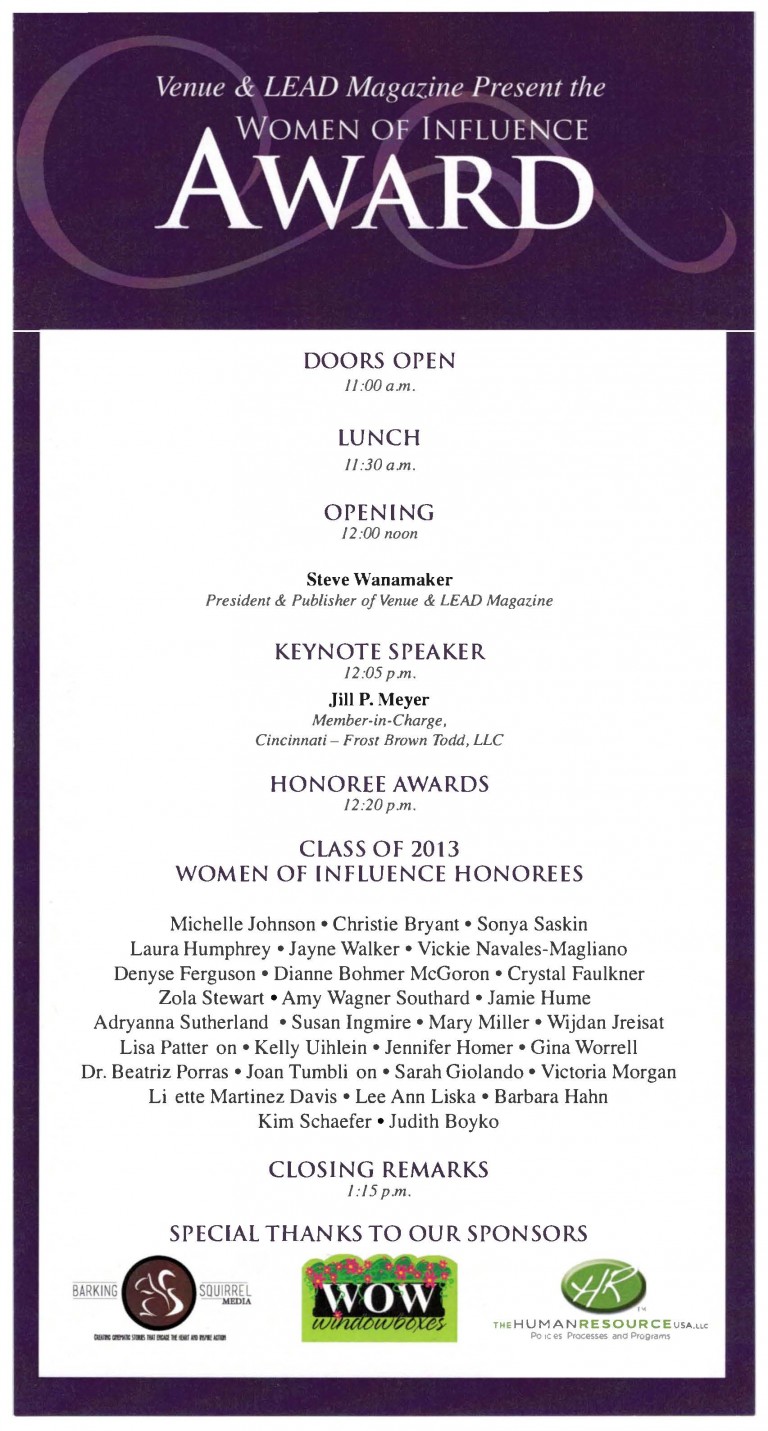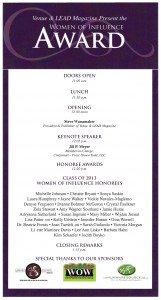 The 29 recipients are all female leaders from across the Greater Cincinnati and Northern Kentucky region. This award honors those who have been catalysts to workplace success and who embody professional achievement, true leadership, and ongoing community involvement.
Beacon Orthopaedics & Sports Medicine is extremely proud to have our Director of Corporate Marketing, Jayne Walker, recognized as one of the Women of Influence. Jayne has been with Beacon since its creation in 1996, and much of what it is today can be attributed directly and indirectly to her hard work and passion. Over the past eighteen years, Jayne has helped build a business from the ground up; turning a two physician practice into a household name in the Cincinnati sports community.
Venue and LEAD Magazine will host the 2013 Women of Influence Awards in November. This awards event is generously sponsored by Barking Squirrel Media, WOW Windowboxes, and the Human Resource USA.
Class of 2013 Women of Influence Honorees include Michelle Johnson, Christie Bryant, Vickie Navales-Magliano, Sonya Saskin, Mary Miller, Wijdan Jreisat, Jayne Walker, Jamie Humes, Zola Stewart, Kim Schaefer, Judith Boyko, Barbara Hahn, Lee Ann Liska, Joan Tumblison, Sarah Giolando, Victoria Morgan, Dr. Beatriz Porras, Lisa Patterson, Dianne Bohmer McGoron, Crystal Faulkner, Adryanna Sutherland, and others.
The keynote speaker for the first Women of Influence Awards is Jill P. Meyer of Frost Brown Todd, LLC. The master of ceremonies for the event will be Steve Wanamaker, President and Publisher of Venue and LEAD Magazine.
+