Our Physicians
Robert Rolf, M.D.
"A HUGE thank you to Dr. Rolf who did an AWESOME surgery on my son's broken collar bone just weeks before his senior year football season started. He was crushed when another doctor (different practice) told him he was done for the year. Dr. Rolf wanted to see what he could do to get him back on the field.  He played his entire senior year and his team (Lawrenceburg Tigers) saw the best season they have had in years! LOVE you and your staff!"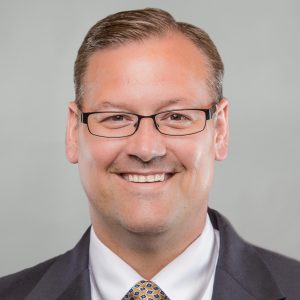 Sports Physicals Form: IHSAA Physical Form

Robert Rolf, MD is a native of Cincinnati and a graduate of La Salle High School.  He attended the University of Notre Dame where he received a BS in Chemical Engineering.  After working as a Sales Engineer for two years, he returned to Cincinnati to study at the University of Cincinnati College of Medicine.
Dr. Rolf completed his orthopaedic surgery residency at Emory University in Atlanta, GA.  He continued his training as a shoulder and elbow specialist at the Boston Shoulder Institute at Harvard under the guidance of Jon JP Warner, MD; Larry Higgins, MD; and Tom Holovacs, MD.  He is not only board certified in Orthopaedic Surgery, but also has his Specialty Certificate in Sports Medicine.
Throughout his fellowship he received extensive training in advanced arthroscopic techniques for shoulder instability and rotator cuff tears.  He also received a world class experience in complex shoulder reconstructive procedures including tendon transfers, shoulder replacement, and reverse shoulder replacement procedures.  In addition, he has a strong interest in sports medicine as well as fracture management.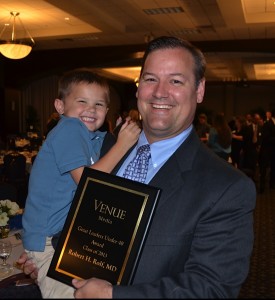 Dr. Rolf is the Co-Director of the Beacon Orthopaedics and Sports Medicine sports medicine fellowship program.  This unique and highly competitive fellowship offers training to surgeons throughout the country about sports medicine and shoulder surgery.
He was recognized in 2013 by Venue Magazine as a "Great Leader Under 40."  Also in that year, Dr. Robert Rolf played an instrumental role in helping TriHealth's Good Samaritan Hospital achieve The Joint Commission's Gold Seal of Approval™ for shoulder replacement.  Not only did Good Samaritan become the first Cincinnati hospital to earn this prestige distinction, it also became only the 12th hospital in the entire country.
When not at work, he stays busy with his four active children. His only saving grace is that his twins like the same sports!
Education
1998-2002: University of Cincinnati College of Medicine, Cincinnati, OH; Doctor of Medicine
1992-1996: University of Notre Dame, Notre Dame, IN; B.S. Chemical Engineering
Internship
2004-2004: Emory University, Atlanta, GA; General Surgery Internship
Residency
2003-2006: Department of Orthopaedic Surgery, Emory University, Atlanta, GA; Resident
Certifications
2010: Board Certified, American Board of Orthopaedic Surgery
2011: Subspecialty Certificate in Orthopaedic Sports Medicine
Professional Affiliations
American Academy of Orthopaedic Surgeons
Robert P. Kelly Orthopaedic Society
American Medical Association
Alpha Omega Alpha Honor Society
Ohio Medical Association
Notre Dame Orthopaedic Society
Academy of Medicine of Cincinnati
Arthroscopy Association of North America
Ohio Shoulder and Elbow Society
Ohio Orthopaedic Society
Fellowships
2007-2008: Massachusetts General Hospital, Boston, MA; Assistant in Orthopaedic Surgery, Harvard Shoulder Fellow