Hall of Fame Health Designates Beacon Orthopaedics as 1 of 25 'Elite Care Centers' in the Country
December 22, 2021
FIRST FOCUS AREA – JOINT REPLACEMENT – PRODUCES INITIAL LIST OF 25 TOP CARE GIVERS ACROSS U.S.
CANTON, OHIO – Hall of Fame Health, an entity the Pro Football Hall of Fame formed in early 2020 to assist former NFL players address health-related issues, today announces the launch of a new designation it is placing on select health care providers, giving them the distinction of becoming a Hall of Fame Elite Care CenterTM.
Plans include certifying these centers within specific areas of focus – such as joint replacement, cardiovascular care, neurosciences, women's health, and behavioral health – and follows significant research and due diligence into these providers in their outcomes data, patient experience and clinical leadership.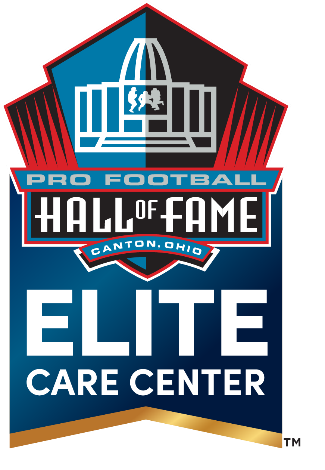 "The brand of the Pro Football Hall of Fame stands for the very best to have played the game, so as we assist our football community determine where they can get the very best care, we do significant homework," said Jeremy Hogue, CEO of Hall of Fame Health. "And in addition to being elite in-patient care, these providers also have been so generous in working with us to vet their credentials and allowing us to take them through our criteria, we think the least we can do is designate them as Hall of Fame Health Elite Care CentersTM."
The designation will allow providers to use trademarked badging that Hall of Fame Health has developed and also will include an online campaign and other promotional efforts.
"We have so many people ask us which doctors, hospitals and facilities we work with, as they often want to access the same care as our former NFL players," said Hogue. "These are the best caregivers in the country, so we should celebrate them and make them easy to find for the general public who can trust that we've done the diligence."
The first service line to roll out with this designation is in the area of orthopedic joint replacements, a natural fit for former football players. The initial group of Hall of Fame Elite Care Centers announced today includes 25 locations and represents more than 100 physicians and includes such names as the Carrell Clinic in Dallas, NorthShore Orthopedic & Spine Institute in Chicago, Flagler Health+ in Florida and North Valley Surgery Center in Scottsdale. An emphasis has been made on sites that emphasize outpatient care when appropriate.
Earlier this year, Hall of Fame Health announced a relationship with Smith+Nephew to become the Pro Football Hall of Fame's Official Joint Replacement Technology. Smith+Nephew provided resources and third-party studies that have helped Hall of Fame Health in its selection of centers, but whether certain doctors or facilities are customers of Smith+Nephew had no bearing in the decision. In fact, Hogue makes it clear this is not a marketing relationship, and facilities cannot buy their way onto this list.
As a resource to former players and their families, Hall of Fame Health has created a website to assist those trying to navigate to these Elite Care Centers. The site can be found at www.rediscoveryourgame.com and can be accessed by the general public as well.
Hogue said Hall of Fame Health would continue adding locations within the joint replacement category. He said the total could reach 50 or more locations around the country, as there are many doctors and cities that they have simply yet to reach. And while that work continues, Hall of Fame Health is setting its sights on other focus areas and specialties it intends to roll out in the near future.
The initial list of joint replacement providers to receive this distinction is below:
·      Advanced Orthopaedics & Sports Medicine – Houston, TX
·      Advanced Surgery Center of North Country – San Diego, CA
·      Andrews Institute – Gulf Breeze, FL
·      Azalea Orthopedics – Tyler, TX
·      Aultman Health – Canton, OH
·      Beacon Orthopaedics – Cincinnati, OH
·      Carrell Clinic – Dallas, TX
·      Emory Orthopaedic & Spine Center – Atlanta, GA
·      Flagler Health+ – St. Augustine, FL
·      Fondren Orthopedic Group – Houston, TX
·      Midwest Orthopedics at Rush – Chicago, IL
·      North Central Surgical Hospital – Dallas, TX
·      North Valley Surgery Center – Scottsdale, AZ
·      Northshore Medical Group – Glenview, IL
·      Proliance Surgeons – Seattle, WA
·      Rothman Orthopaedic Institute – Philadelphia, PA
·      Tampa General Hospital, Orthopedics Institute – Tampa, FL
·      Texas Orthopaedic Associates – Dallas, TX
·      Texas Orthopedic Hospital – Houston, TX
·      Texas Orthopedics Surgery Center – Austin, TX
·      Texas Orthopedics Sports & Rehabilitation Associates – Austin, TX
·      Texas Spine & Joint Hospital – Tyler, TX
·      Twin Cities Orthopedics – Minneapolis, MN
·      University of California San Francisco Orthopaedic Institute – San Francisco, CA
·      Vanderbilt University Medical Center – Nashville, TN
###
ABOUT THE PRO FOOTBALL HALL OF FAME
Located in Canton, Ohio, the birthplace of the National Football League, the Pro Football Hall of Fame is a 501(c)(3) not-for-profit institution with the Mission to Honor the Heroes of the Game, Preserve its History, Promote its Values, & Celebrate Excellence Together.
The Pro Football Hall of Fame is accredited by the American Alliance of Museums. AAM accreditation is national recognition for the museum's commitment to excellence and the highest professional standards of museum operation and public service.
Hundreds of thousands of fans from across the globe travel to Canton annually to experience an inspirational, interactive museum that chronicles America's most popular sport. Fans can also enjoy the Hall of Fame Store at the Hall, and online at www.profootballhof.com/store, for merchandise from all 32 NFL clubs plus the Hall of Fame. Proceeds from the Store support the Hall's Mission. Gridiron Glory Myrtle Beach opened in South Carolina this summer, giving fans another opportunity to experience "The Best of the Pro Football Hall of Fame." For more information, go to HOFMyrtleBeach.com.
Construction on Hall of Fame Village Powered by Johnson Controls, a mixed-use development project, is under way in Canton to transform the Hall of Fame's campus.
ABOUT HALL OF FAME HEALTH
Hall of Fame Health is an affiliate of the Pro Football Hall of Fame. Its mission is to provide former professional football players and their families with concierge-level access to world-class resources for all aspects of the health care system, from obtaining health insurance and other benefits, to navigating to the best doctors and health systems, and including resources in behavioral health across the various levels of care, including a crisis help line. While serving its football community, it also aims to impact communities across the country. More information can be found www.hofhealth.com.
+